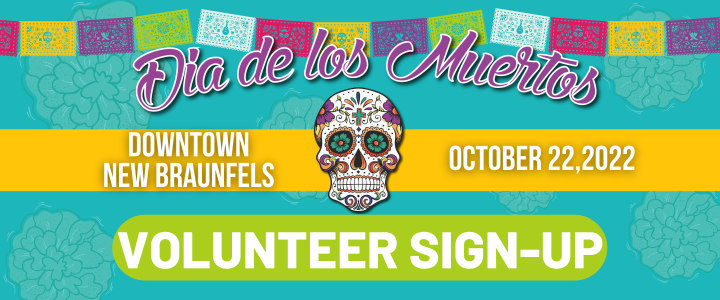 The Greater New Braunfels Chamber's Hispanic Business Alliance (HBA) is hosting the 6th Annual Dia de los Muertos Festival on Saturday, October 22 from noon to 10:00 p.m. in downtown New Braunfels. This is a free community event highlighting Hispanic culture including local food, drinks, arts & crafts, vendor booths, shopping and live entertainment.
The Dia de los Muertos Festival takes a lot of hard work from amazing volunteers. Volunteers will sign up for shifts to work during the festival doing everything from set-up to tear down. If you would like to sign up to be a day-of volunteer, please visit click HERE.
The annual Dia de los Muertos festival is the HBA's biggest fundraiser of the year. The money made from this festival is used all year long to support the HBA's small business grant fund, scholarships, and quarterly HBA events.
Dia de los Muertos is expected to draw thousands of residents and visitors to downtown New Braunfels. The festival is FREE to attend. For more information, visit www.NBDDLM.com.