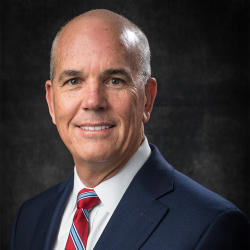 Wes Studdard is the Vice President for Bluebonnet Motors Inc., and Immediate Past Chair for the New Braunfels Chamber. He has been married to his wife Tina for over 30 years, and has three children: Jordan, Taylor, and Lauren.
Studdard feels blessed to live, work and raise a family in New Braunfels. He grew up in El Paso, went to college at the University of Texas in Austin and had his first career job in Houston. Moving to New Braunfels was exciting for he and Tina, and it turned out to be the best decision for their family. They love their neighborhood, friends and this city. The faith based, conservative community with a focus on family has been a perfect fit for them. The Studdards look forward to growing old and sharing experiences with great friends in New Braunfels.
Studdard has an impressive legacy of being active in his community. He has been a part of multiple boards and organizations, including Past Deacon of Oakwood Church, Chairman of South Texas Ford Advertising Board, Vice Chairman of New Braunfels City Bond Advisory Committee, Past Chairman of McKenna Foundation, Past President of the Downtown Association, and many more. Studdard has received the Chamber's Hall of Honor Award (2015), Chair of the Board Award (1998), New Braunfels Jaycees Boss of the Year (1995), and much more.
Fun Facts:
Favorite flavor of ice cream? Cookie dough with hot fudge sauce.
If you could time travel, what time period would you visit first? The Last Supper with Christ.
Favorite all time musician or band? James Taylor.