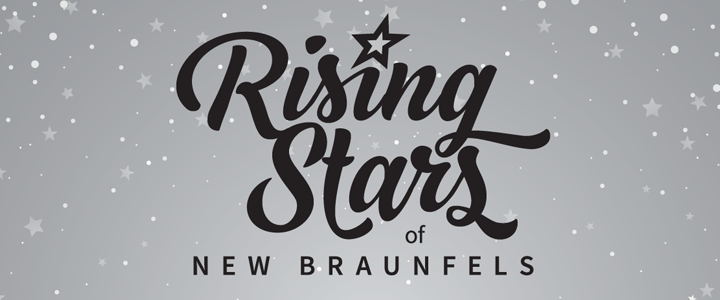 Tickets are available for the 4th Annual Rising Stars of New Braunfels Gala coming up on Friday, April 30. The Gala will be held at 7:00 p.m. at the Old Mill Events Center and celebrates the 20 outstanding young leaders who were named the 2020 class of Rising Stars. 

The evening will include a VIP hour for the honorees, served dinner, brief remarks, the presentation of a plaque commemorating this honor to each awardee, and the announcement of the winner of the 2020 Distinguished Young Leader Award. 
This award recognizes our community's young leaders who are making a positive impact in their professional and civic endeavors. These Rising Stars are on a trajectory towards being New Braunfels next generation of community leaders. The program is hosted by the New Braunfels Jaycees, New Braunfels Herald-Zeitung and Greater New Braunfels Chamber of Commerce.  
To be considered, an applicant must be under the age of 40 on December 31, 2020, live or work in New Braunfels, and have made significant contributions to the community through continued success in their professional or community service activities. 
For sponsorship opportunities please contact Alyssa Coker at Alyssa@InNewBraunfels.com 
2020 Rising Stars of New Braunfels: 
Marianne Brockman, 33, Comal ISD – Bill Brown Elementary 
Patrick Carreon, 26, DOCUmation 
Justin Friesenhahn, 38, T and F Construction Co.  
Stephen Ganske, 38, Moore Ganske Murr PLLC 
Jennifer Graham, 31, ADKF 
Holly Hayes, 36, Bobcat Trucking, Inc. 
Vanessa Hayes, 36, The Blake New Braunfels 
Kristen Hoyt, 32, Comal County Tax Office, Corner Tubes 
Manijeh Huereca, 37, Manijeh Huereca with Vista Realty 
Kathryn Lacy, 29, Deborah Linnartz Wigington & Associates, PLLC / Lovorn & Ogle 
Ashley Landerman, 35, 2tarts Bakery 
Gina Littrell, 38, New Braunfels Regional Rehabilitation Hospital 
Nathan Page, 34, Smokey Mos BBQ 
Clark Pantel, 29, Edward Jones Investments 
Katharina Eileen Perez, 33, Hair by Eileen 
Colton Read, 32, Gruene Shredding 
April Rodgers, 39, CBRE 
Sandra Stolte, 37, Farmers Insurance, JP Kesselring Agency 
Lauren Strack, 35, Headwaters at the Comal/New Braunfels Utilities 
Reyes Villarreal, 29, New Braunfels Professional Firefighters Association