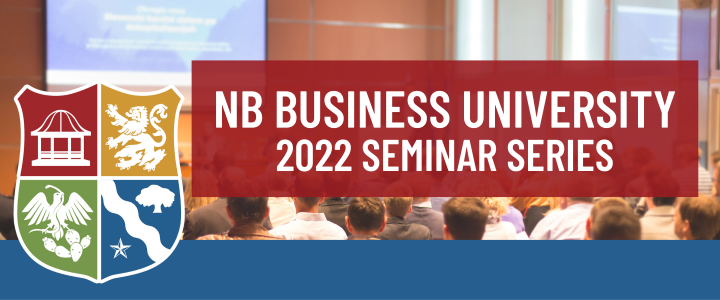 NB BUSINESS UNIVERSITY PRESENTS
2022 Seminar Series
The Business Advisory Committee is focused on helping your business progress. This year, we've designed a seminar series through NB Business University offering a variety of educational training and workshops geared toward small and medium sized businesses. All seminars will be held in person. 
2022 Seminar Schedule
March 24, 2022: Economic Update and Fed 101
April 28, 2022: Expanding your Business to Surrounding Areas
May 19, 2022: Trades in the Community – Keeping up with the industry
September 22, 2022: Strategic Business Planning
October 13, 2022: Marketing Planning Workshop
October 27, 2022: Managing your Business' Cyber Risk
NB Business University Seminars are designed to present relative information on issues facing business professionals. Seminars will be held from 11:30 a.m. - 1:00 p.m. at Howard Payne University – New Braunfels and lunch will be provided. Seminar Packages are available for purchase. 

Interested in becoming a Sponsor? View the Sponsorship Packages HERE and contact Alex Meade at alexandra@innewbraunfels.com for more information
 

Thank you to our sponsors!
Series Sponsors


Event Sponsor