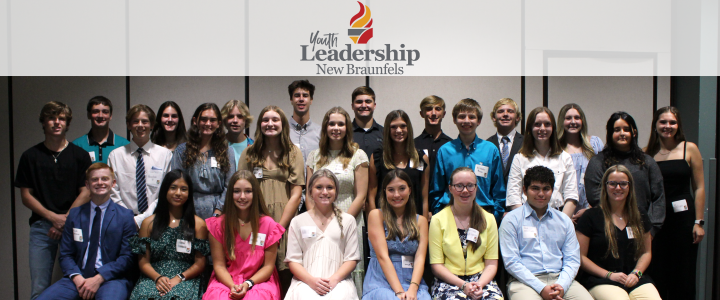 The Youth Leadership New Braunfels class of 2023 has been selected, with 28 students making the roster. The newest Youth Leadership participants met for their orientation last week.
The 2023 class marks the 26th group of high school sophomores and juniors to go through the program, which has graduated nearly 700 young leaders since its inception in 1997. The roster includes students from Canyon High School, Davenport High School, John Paul II, Canyon Lake High School, Memorial Early College High School, New Braunfels High School, and New Braunfels Christian Academy.
The purpose of the Youth Leadership New Braunfels program is to train students in leadership techniques and community awareness, so they become familiar with current issues, community resources, opportunities and other factors influencing the direction of their community's future. The class will meet monthly beginning in October, for seven school-day sessions covering topics such as leadership skills, tourism, history, arts, government, the justice system, health care, business and economic development, and education.
Youth Leadership New Braunfels 2023 Class Roster:
Jillian Allen - New Braunfels Christian Academy
Kristopher Bayer - New Braunfels Christian Academy
Presley Bolado - Canyon High School
Wyatt Buckley - New Braunfels High School
Lilah Dupree - Canyon High School
Garrett Ellis - New Braunfels High School
Liliana Escalante - Canyon High School
Dakota Fisher - Memorial Early College High School
Julie Franklin - John Paul II 
Emily Freiha - New Braunfels High School
Audrey Fulham - New Braunfels High School
Ian Goodwin - Canyon High School
Kate Hanz - New Braunfels High School
Gracie Hoppe - Canyon High School
Ella Jenkins - Canyon High School
Parker Joseph - New Braunfels Christian Academy
Katrina Kilgore - Canyon High School
Catcher Kyle - New Braunfels High School
Elizabeth Lawson - New Braunfels High School
Maya Matthews - Memorial Early College High School
Mckaleigh Mattson - Davenport High School
Brynnleigh Miller - John Paul II 
Megan Ohnheiser - John Paul II 
Houston Phillips - New Braunfels High School
Jack Sciantarelli - John Paul II 
Brixton Shullanberger - New Braunfels High School
Jacob Tuckness - Canyon Lake High School
Landon Yutzy - New Braunfels High School