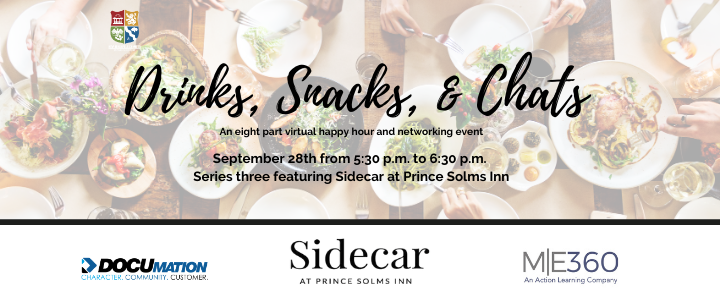 Join in on the third live streaming happy hour event this evening, September 28. The Business-Advisory Committee is excited to announce this week's featured guest, Sidecar! We will get a behind the scenes look at how to make some of their more popular drinks and all new menu items!
This week's event will be held virtually and in person for the first twenty Chamber members that registered for the event. The in-person slots are no longer available but the online registration is still open for participants.

The Chamber's Business Advisory Committee is continuing their new eight-part networking series. The virtual happy hours and networking event series will continue every other Monday through December. Each event will feature a local bartender and chef teaching viewers how to make their favorite drink and snack. After each instruction, the viewers will break into small groups to give all the opportunity to make new connections. Let's face it, with as long as we've been apart even a connection with a familiar face will probably be a new connection.
A big thank you to the series sponsors, DocuMation for providing technical support and ME360 for program facilitation. Additional sponsorship opportunities are available. Contact Stephen Brockman at Stephen@InNewBraunfels.com for more information.