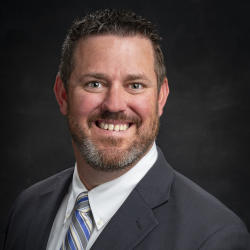 Stephen Brockman currently serves as the Vice President of Leadership and Small Business Programs. Brockman's responsibilities include the Business Trade Show, Small Business Week, Business Advisory, and the Leadership New Braunfels Youth, Adult and Alumni programs among other programs, projects and events.
Brockman has 15 years of experience in military, manufacturing, and entrepreneurial leadership. He was previously President of Brockman Capital here in the community. Serving as a field artillery officer in the US Army for four years, he is also a graduate of Texas A&M University where he played football. After his service to the nation, Brockman worked for Eaton Corporation in Memphis and Houston. He became an Edward Jones Financial Advisor prior to opening his own firm last year.
Brockman is a member of the New Braunfels Noon Lions Club, Chamber of Commerce, the New Braunfels Jaycees, a Communities in Schools Mentor, and a graduate of Leadership New Braunfels.