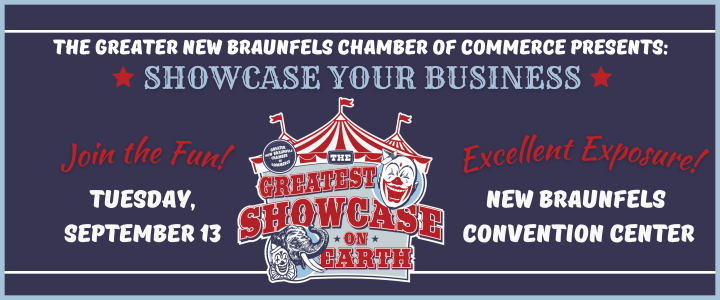 The deadline for exhibitor registration for the 34th Annual Business Showcase has been extended to August 16 at midnight. The Showcase will take place on Tuesday, September 13th and feature a day show from 10:30 a.m. – 4:00 p.m. followed by a night show from 5:30 p.m. – 8:00 p.m. This year's theme is The Greatest Showcase on Earth, so break out your best PT Barnum inspired outfits and booth décor! Prizes will be given to exhibitors with the Best Costumes and Best Booth Decorations.
Registration fees vary based on the selection of booth size, from $525 to $1475, with a discounted prices for members of the New Braunfels Chamber. Available booths can be viewed here. 
Register before the deadline is up! Click the button below to learn more about registration as well as access the exhibitor registration form.