A New Braunfels native, Allison Humphries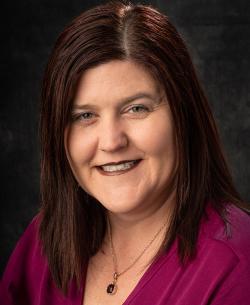 graduated from Texas A&M University in 2001. She is a licensed real estate appraiser and real estate agent, and currently works as a Commercial Property Manager with Rodgers Commercial Realty.
Humphries is married to her husband, Chris, and they have two children, Addison (9) and Caitlynn (5). Humphries is very involved with the Chamber, including a Leadership New Braunfels Graduate (2004), Blue Coat and Life Member, chaired the Business Trade Show and Leadership Alumni Fundraiser committees, and is still active with these committees.
Humphries currently serves as Vice Chair of the Board of Directors for the New Braunfels Chamber of Commerce. Along with that she is a past president of the New Braunfels Jaycees, a Sophienburg Museum & Archives Verein member and has chaired their annual Weihnachtsmarkt fundraiser and was involved with planning the gala for many years. She is a former member of the Connections Board and served as their secretary, active with the Carl Schurz PTA and First United Methodist Day School Spring Fling and have chaired their annual fundraiser. One of her biggest community involvement roles right now is Events Chairman for the 175th celebrations in 2020.
Fun Facts:
Favorite activity in New Braunfels? One of my favorite activities in New Braunfels is to swim down at the Island. It is one of the prettiest parts of the Comal River and holds most of my best childhood memories.
If you could go on a free vacation anywhere in the world, where would you go? I would have to say Australia and New Zealand.
What is one thing on your bucket list? This is a little bit harder, I have many items on this list...I would love to visit all 7 continents and experience all the different cultures.