Scholarship
The Texas Legislative Conference established in 2011 the Edmund Kuempel Public Service Scholarship Program to award a scholarship to two area high school seniors each year.

The purpose of the scholarship program is to provide financial assistance to high school seniors who are interested in pursuing studies in government and/or public service. Scholarships can be applied toward tuition, fees, books and/or housing.

This is a one-time $1,000 scholarship. Recipients must plan to attend a college, university or trade school in Texas; a minimum of 12 hours must be taken in the semester. Checks will be made payable to the scholarship recipient.

All applications for the Edmund Kuempel Scholarship Program must be received no later than March 1, 2020. Applications received after March 1, 2020 will not be accepted.

ELIGIBILITY GUIDELINES
The Conference's goal is to encourage and assist students to fulfill their educational endeavors in the field of government and/or public service (policeman, fireman, lawyer, teacher, military, etc.). The following guidelines will be used to determine eligibility and to evaluate applications:

1. Any senior attending Canyon High School, New Braunfels High School, Navarro High School, or Seguin High School and who has taken government classes is eligible to apply for the scholarship.

2.The student must plan to attend a college, university or trade school in Texas and concentrate in government and/or public service to include but not limited to Political Science, Public Administration, Legal Studies, Law Enforcement, Military Service, Firefighter Training, Education, Non-profit Management, and Public Safety.

3. The student must have an overall "B" average or above.
Anna Grun will graduate this year from Memorial Early College High School with both a high school diploma and an Associate's Degree. While maintaining a 3.9 GPA, she has also been very involved in her school through many clubs such as the National Honor Society, American Sign Language Club and Science Club. Anna has also been an active volunteer with many organizations such as the New Braunfels Humane Society, New Braunfels Food Bank, and Oakwood Baptist Church while working up to 30 hours per week. Anna plans to attend Texas State University and major in Criminal Justice, followed by law school and the ultimate goal of becoming a District Attorney.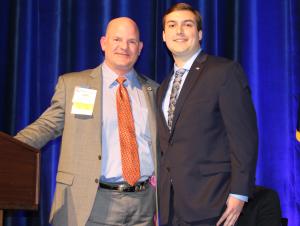 Christopher Greenwell is a senior at New Braunfels High School with a long list of school and community service activities. Christopher is the National Honor Society President, a graduate of the Youth Leadership New Braunfels program, a member of the Student Council, an NBISD School Board Student Representative, an American Legion Boys State Senator, and served on the NBHS School Safety Committee. He has also been awarded the NBHS Senior of the Month and the Daughters of the American Revolution Good Citizen Award. Christopher will attend Texas A&M University this fall to major in Business Administration and Public Administration to become a City Manager and would like to run for state office in the future.