Official Guide to New Braunfels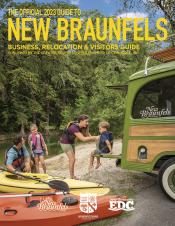 The Chamber-produced "Official Guide to New Braunfels" is a great source of information on the Chamber, our members, and the community as a whole.
This award winning magazine is distributed to 15,000 New Braunfels residents, businesses and visitors. It contains Chamber members listed alphabetically by business name, alphabetically by personal representative name, and in a classified "yellow pages" format Buyer's Guide. For more information on getting your business highlighted in this professional publication, please contact Ginger Doherty at Ginger.A.Doherty@gmail.com. 
View the 2023 Official Guide to New Braunfels >
Networking
The Chamber gives you a seat at the table to engage with community leaders, learn from your peers and gain visibility with potential customers. Some of our networking opportunities include:
Join a Committee
Participate and Attend the Business Showcase
Attend a Business Seminar
Connect Online
Digital Membership Decal
When customers know you are a Chamber member, they are more likely to buy from your business. Display your Chamber membership on your website with this Digital Membership Decal.
View the Digital Membership Decal >
Enhanced Internet Presence
The Chamber's online Business Directory is a trusted source for residents, newcomers and visitors to find the businesses they are looking for.
Your Chamber membership offers great opportunities for marketing and advertising that can help your business reach more than 250,000 potential customers per year.
View the Digital Marketing Packages >
 Email Alyssa@InNewBraunfels.com for more information. 
Build Your Business Skills
The Chamber is a great resource for helping you build your business skills. In addition to our own NB Business University Seminars, we also provide Demographic Information, an up-to-date list of area Clubs and Organizations, and extensive information on the Business Climate in our community. We also provide support to the UTSA Small Business Development Center which offers confidential advising services at no charge.
Sponsorship Opportunities
The Chamber provides Sponsorship Opportunities exclusively to our members. These valuable marketing tactics can help you reach a very motivated and captive target audience full of potential customers.
View the Sponsorship Opportunities >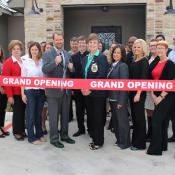 Ribbon Cuttings, Grand Openings and Groundbreakings are a great way to gain awareness in the community. These ceremonies come with your membership and include the on-location event attended by Chamber staff, Board Members, and Blue Coat Ambassadors, promotion before and after the event on the Chamber's website and social media platforms, mention in the New Braunfels Herald-Zeitung newspaper prior to the event, and a featured photo of the Ribbon Cutting in the Tuesday business edition of the New Braunfels Herald-Zeitung after the event. Members who join as a "Business Builder" or higher will receive a customized video produced of the event.
Contact Teresa@InNewBraunfels.com for more information on scheduling your Ribbon Cutting, Grand Opening or Groundbreaking.
Business Showcase
The Annual Business Showcase, held in September, provides an opportunity for businesses, large and small, to showcase their products and services to a captive audience of more than 1,600 New Braunfels residents. This is your opportunity to market directly to a large number of potential customers gathered together with the purpose of learning about local businesses.
Coupons
The Chamber is proud to offer our members an avenue for promoting their discounts and coupons through the website CouponsInNewBraunfels.com. Use this resource to market your own company's coupons or look for discounts at other Chamber member businesses.
Contact Teresa@InNewBraunfels.com for more information. 
Community Calendar
Businesses and non-profit organizations are encouraged to submit their community event for inclusion on the Community Calendar. This calendar was created to help promote and advertise events in the community in one place. Events must be open to the public.