Art Contest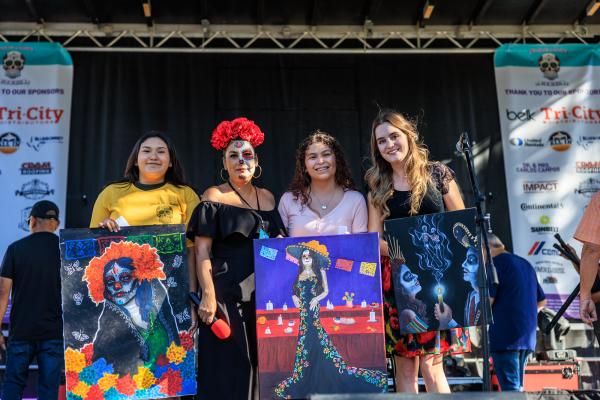 2022 art contest winners Cecily (3rd place), Tina (2nd place), Melanie (1st place)
Photo by Mikie Farias
Join in the celebration of Hispanic culture by participating in the 2023 Dia de los Muertos art contest. All submitted entries must represent the unique style and imagery of Dia de los Muertos, emanating the excitement and spirit of Hispanic traditions.
Rules:
You must live within a 30-mile radius of downtown New Braunfels. All artists of all media (i.e., oil/acrylic/tempera, watercolors, illustrations, prints, etc.) and of computer graphics are invited to participate in this competition.
All submissions must represent the unique style and imagery of HBA's Dia De Los Muertos emanating the spirit of Hispanic culture and tradition.
Each entry must be a completely original work created solely by the entrant, not previously published, or used in other posters, promotions, or events.
One artist per entry. No collaborations or joint efforts.
Artists are encouraged to keep in mind artwork may be used as posters and prints.
Submit your work in a production-ready, vertical poster format measuring 22" wide by 28" high mounted on foam core or gator board. Stretched canvas is acceptable if appropriate for the medium.
You must submit your artwork to the New Braunfels Chamber's Hispanic Business Alliance located at 390 S. Seguin Ave, New Braunfels TX 78130 no later than October 13, 2023. Chamber hours are Monday – Thursday 8:00am to 5:00pm and 8:00am to 4:00pm on Friday.
Prizes:
• 1st Place Winner will receive $200
• 2nd Place Winner will receive $100
• 3rd Place Winner will receive $50
All winners will be honored at the Dia De Los Muertos Festival on October 28, 2023.