Top Takeaways of the HEALS Act
On July 27, 2020, Senate Republicans released their proposal for the next round of federal legislation to provide relief regarding the coronavirus pandemic. The entire $1 trillion Republican proposal will be known as the Health, Economic Assistance, Liability, and Schools Act (HEALS Act), and will be broken down into eight smaller bills for negotiations. 
Extends the Paycheck Protection Program by adding $60 billion for small businesses with fewer than 300 employees and demonstrable revenue losses since the pandemic began.

Provides $100 billion in long-term, low-cost loans to seasonal businesses and those located in low-income areas with demonstrable revenue losses since the pandemic began.

Shields businesses, schools, charities, and other organizations from COVID-19 related lawsuits through October 1, 2024 as long as the organization makes "reasonable" efforts to follow public health guidelines. 

Includes tax credits for the increased costs to businesses needed to operate during the pandemic. It also includes an expanded tax break for businesses that are providing meals and entertainment for clients.

Expands the employee retention tax credit for businesses that keep workers on their payrolls.

Extends the federal supplemental unemployment benefits enacted as part of the CARES Act for two months at $200 per week on top of state-level benefits.

Includes direct payments of $1,200 with incomes of $75,000 or less a year, with $500 in benefits for each child or adult dependent.

Provides $105 billion in funding for schools, with flexible funding for Governors to spend based on the states' needs.  Two-thirds of the money will be allocated to  schools with reopening plans.  Other funds will create emergency scholarships to use towards qualified educational expenses, including private school tuition.

Creates tax credits to encourage manufacturing of domestic personal protective equipment.

Includes $20 billion in aid for agriculture, which can be allotted broadly under the discretion of U.S. Department of Agriculture Secretary Sonny Perdue.
National Information
U.S. Centers for Disease Control
The best source of information regarding the ongoing COVID-19 pandemic is the U.S. Centers for Disease Control via their website. The website provides up-to-date information, resources for communities, businesses and healthcare providers.
U.S. Senate Committee on Small Business and Entrepreneurship 
The programs and initiatives in the Coronavirus Aid, Relief, and Economic Security (CARES) Act that was passed by Congress are intended to assist business owners with whatever needs they have right now. View The Small Business Owner's Guide to the CARES Act below.
Small Business Administration (SBA)
The Small Business Administration (SBA), in consultation with the Department of the Treasury, intends to provide timely additional guidance to address borrower and lender questions concerning the implementation of the Paycheck Protection Program (PPP), established by section 1102 of the Coronavirus Aid, Relief, and Economic Security Act (CARES Act).
---
State Information
Governor's Office
The Governor's Strike Force to Open Texas will safely and strategically restart and revitalize all aspects of the Lone Star State—work, school, entertainment, and culture.
Texas Department of Health and Human Services
The Texas Department of State Health Services is working closely with the Centers for Disease Control and Prevention in monitoring COVID‑19. You can find the current Texas case count on their News Updates page.
Texas Workforce Commission
The Texas Workforce Commission has over 1,500 staff helping support unemployment insurance services and has upgraded and expanded telephone infrastructure and website capacity. 
---
Local Information
The New Braunfels community is working together to protect our residents and businesses. Access resources from our local community partners to stay informed. 
Comal County
The Comal County Public Health department has a dedicated page for COVID-19 information and will keep the public up-to-date on information specific to our community using this webpage. 
City of New Braunfels
The City of New Braunfels is providing regular updates and information regarding COVID-19 and have an Alerts Page available for all announcements.
CVS Health is offering self-swab tests to individuals at test sites throughout Texas, including two New Braunfels locations. Patients must register in advance at CVS.com to schedule an appointment.
School Districts
Both New Braunfels and Comal Independent School Districts have developed webpages to provide information on how COVID-19 is affecting their schools and give updates on any school operations. 
NEW BRAUNFELS ISD INFORMATION >
---
Resources for Your Business

Economic Injury Loans Available
The U.S. Small Business Administration is offering low-interest federal disaster loans for working capital to small businesses suffering substantial economic injury as a result of the Coronavirus (COVID-19). Small business owners in all U.S. states and territories are currently eligible to apply for a low-interest loan due COVID-19.
Here are a few things to have ready when filling out an application:
Business tax returns for the two most recent years filed
2019 year-end financial statements
Personal financial statements for any owner with over 20% interest in the entity
Current Note Schedule (Lender, Balance, Payment, Terms, Collateral)
DISASTER LOAN ASSISTANCE PROGRAM >
Families First Coronavirus Response Act
The Families First Coronavirus Response Act expands access to emergency paid sick leave and provides families with critical protections to ensure that workers can care for their children without sacrificing their paycheck.
The U.S. Department of Labor published guidance to provide information to employees and employers about how each will be able to take advantage of the protections and relief offered by the Families First Coronavirus Response Act (FFCRA) when it takes effect on April 1, 2020.
IRS Temporarily Adjusts, Suspends Key Compliance Program
To help people facing the challenges of COVID-19 issues, the Internal Revenue Service announced a sweeping series of steps to assist taxpayers by providing relief on a variety of issues ranging from easing payment guidelines to postponing compliance actions.
U.S. Chamber of Commerce
The U.S. Chamber is working closely with the White House, U.S. government agencies, and foreign government officials to inform and equip businesses with the most important and up-to-date information to prevent the spread of the virus and prepare businesses for the near and long-term impact.
U.S. Centers for Disease Control Resources for Businesses & Employers 
The U.S. CDC has developed interim guidance that may help prevent workplace exposures to acute respiratory illnesses, including COVID-19, in non-healthcare settings. The guidance also provides planning considerations if there are more widespread, community outbreaks of COVID-19.
Texas Association of Business Resources
The Texas Association of Business has also compiled resources for Texas businesses with the latest information from the Centers for Disease Control, Texas Department for of State Health Services and the White House.
Texas Workforce Commission Resources for Employers
The Texas Workforce Commission has put together a resource page for employers dealing with effects of COVID-19 including information on unemployment benefits, precautions for employers, layoffs and shared work programs, and reducing employee hours. 
Effective immediately, TWC asks that Texans use their area code to find their proposed call and access times listed below. See below chart for recommended call and access times.
Workforce Solutions Alamo Resource for Businesses
Workforce Solutions Alamo provides no-cost services are for companies of all sizes. If your business is facing a layoff or closure, they can offer you and your employees' transition and re-employment services at no cost. Workforce Solutions Alamo has resources for layoff aversion and layoff assistance, 
---
Employee Resources
$40,000,000 in Supplemental Child Care Distribution in Texas to Support Communities and Families During COVID-19
The Texas Workforce Commission will distribute $40,000,000 of supplemental child care. These funds will allow local Workforce Development Boards to provide child care to the new COVID-19 Essential Workers, and, pending approval of a federal waiver from the Office of Child Care, make supplemental payments to child care programs to cover lost Parent Share of Cost (PSOC) payments. Essential Workers with children under the age of 13 may receive child care financial assistance to cover a portion or, in some cases, all of the costs for child care. In addition to resources for new COVID-19 Essential Workers, boards will also have funds to cover lost PSOC payments.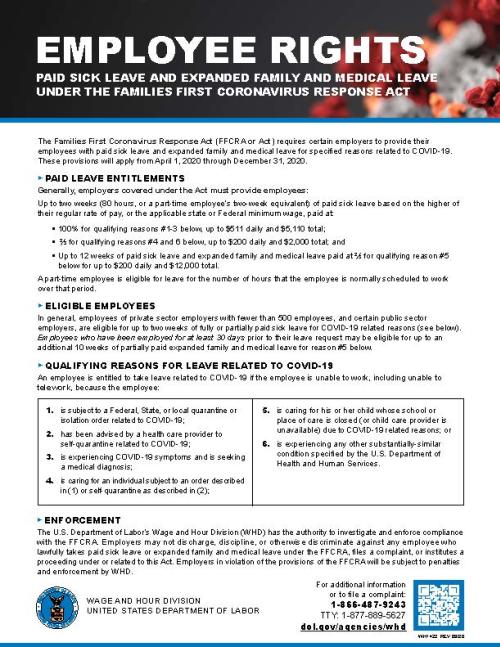 Texas Workforce Commission Resources for Employees
The Texas Workforce Commission has put together a resource page for employers dealing with effects of COVID-19 including information on unemployment benefits claims, steps after you apply for benefits, precautions for employers. and news and information.
Unemployed?
If your employment has been affected by the coronavirus (COVID-19), apply for benefits either online at any time using Unemployment Benefits Services or by calling TWC's Tele-Center at 800-939-6631 from 8 a.m.-6 p.m. Central Time Monday through Friday.
Workforce Solutions Alamo
Workforce Solutions Alamo provides job seeker services and if you recently lost your job due to economic disruptions of COVID-19 or changes in the economy they can help. Workforce Solutions Alamo can assist you in finding a new job or training for a higher-skilled role in a new occupation.
They have information on how to apply for unemployment, unemployment insurance, layoff assistance, and new job opportunities. 
General workplace health and safety information for Employees