Small Business Week May 5-11, 2019
Small Business Week was established in 1963 by President John F. Kennedy, and every year since then the President of the United States has declared a week of national recognition of the critical contributions of America's entrepreneurs and small business owners. More than half of Americans either own or work for a small business, and they create about two out of every three new jobs in the U.S. each year. Every day, entrepreneurs are working to grow small businesses, create 21st century jobs, drive innovation, and increase America's global competitiveness.
The Chamber encourages the community to make a conscious effort to show our support, appreciation and admiration for our local small business owners during this week and throughout the year. We can make a difference in the outcome of our local businesses and positively impact the New Braunfels economy by helping them stay open. During Small Business Week, wear yellow on Friday and use #SBWNB so everyone knows that here, in New Braunfels, we support our local entrepreneurs.
2018 Small Business Person of the Year Natalie Rougeux: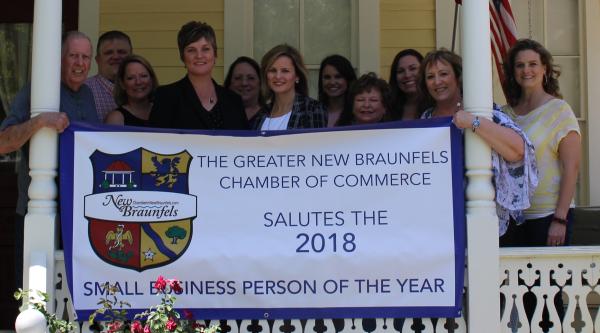 Members of the Chamber's Executive and Small Business Week committees surprised Natalie Rougeux with the announcement that she has been named the 2018 Small Business Person of the Year.
Read the full release announcing Rougeux as the 2018 Small Business Person of the Year >
Past Small Business Person of the Year Winners:
2018 - Natalie Rougeux, Rougeux & Associates, PLLC
2017 - Justin Meadows, Justin Meadows State Farm
2016 - Nathan Manlove, The AMMO Group
2015 - Soriya Estes, Estes Audiology
2014 - Kent Fischer, Fischer Veterinary Clinic
2013 - Matt Kyle, The Kyle Law Firm
2012 - Ken & Lisa Brucks, Prodigy Learning Center & Child Care Center
2011 - Robin Jeffers, J&R Gymnastics
2010 - Ernie Jergins, Ernesto's Jewelry
2009 - John Guenzel, Rio Raft & Resort
2008 - Dee and Terry Buck, Buck Pottery
2007 - Judi & Cecil Eager, Gruene Mansion Inn
2006 - Miles Granzin, Granzin BarBQ
2005 - Donna Scheele, Property Management Professionals, Inc.
2004 - Trudy Soechting, Natural Bridge Wildlife Ranch
2003 - Doug & Anne Miller, Miller & Miller Insurance Agency
2002 - Lester Stockhorst, PRINT IT
2001 - Adam & Karen Cork, Color Express
2000 - Don & Lynn Forres, Huisache Grill
1999 - Carol Johnson, Johnson Furniture/Innerworks
1998 - Randy Vanstory, Quick Align
1997 - Pam Kraft, Kraft Mobiletel
1996 - Larry Wenzel, Creative Eyewear by Larry
1995 - Rusty Brandt, 'Tis The Season
1994 - Kyra Brandt, Comal Flower Shop on the Plaza
1993 - Cash & Dennis Hermes, Centex Office Plus
1992 - Bob Schima, Henne Hardware
1991 - Marian Benson, The Collection
1990 - Mary Jane Nalley, The Gristmill River Restaurant and Bar