Frequently Asked Questions
 
Question: What are the show times for the general public?
Answer: This year's Business Showcase is a one-day event on Tuesday, September 12, 2023. The Day Show is from 10:30 a.m. – 4 p.m. & the Night Show is from 5:30 p.m. – 8:00 p.m. 
Question:  What is the booth size and what comes with my booth?
Answer: Booths in the Exhibit Hall are 10' by 10' and booths in the Ballroom are 8' deep by 10' wide. You get a skirted table, 2 chairs, and a professional sign with your business name.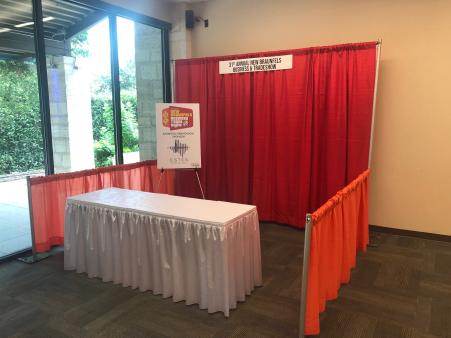 Question: When can my team get into the Civic Center to start setting up our booth?
Answer: The Civic Center will open at 12 p.m. on Monday, September 11 to Exhibitors for booth setup. Your booth needs to be completely set up by 8 p.m. Your team can enter and exit from the Castell Ave. loading dock/service door or the front doors.
Question: What supplies do I need for setup?
Answer: Besides your business-specific needs, you will need to bring your own dolly/handcart because the Civic Center does not supply them. Also, if you need electricity, bring a power strip and an extension cord.
Question: When can I get in for the Day Show?
Answer: The Civic Center will open at 8 a.m. on Tuesday to Exhibitors wanting to get organized prior to the Day Show. Doors open at 10:30 a.m. for the general public.
Question: I want to give away or sell food. Are there any restrictions?
Answer: If you plan to distribute samples of food or beverages, please fill out the temporary food concession permit and return it to the City of New Braunfels: Temporary Food Establishment Application.
Question: What can I leave at my booth on Monday night? What kind of security will there be?
Answer: It is not advisable to leave any cash boxes or items of value, just to be safe. However, the Civic Center will be locked overnight and the security alarm set with motion detectors. Should you have helium balloons, they must be weighted so as not to set off the alarm.
Question: When can I break down my booth?
Answer: All booths must remain intact until the close of the event at 8:00 pm on Tuesday, September 12. If you should dismantle your booth before the show closes, you will not be invited to return to the 2024 Business Showcase.
Please contact Jennifer Watson Russell at Jennifer@InNewBraunfels.com with any questions.