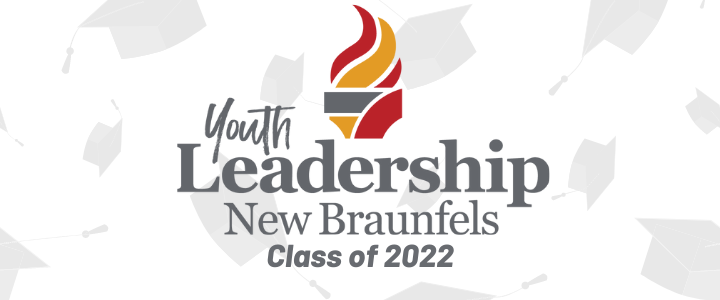 Youth Leadership New Braunfels Class of 2022 will be honored at a graduation ceremony at 6:00 p.m. on Tuesday, April 19th at the Brauntex Theatre, located at 290 W San Antonio St, New Braunfels, TX 78130.
The evening will include a video presentation of the class year, words from class members, award presentations and keynote speaker, Jay Johnson with J2 Servant Leadership. The graduating class of 34 sophomores and juniors consists of 12 students from Canyon High School, 3 Students from St. John Paul II Catholic High School, 2 Students from Davenport High School, 16 Students from New Braunfels High School, and 1 Student from Memorial Early College High School. More than 600 young leaders have completed the Youth Leadership program during its 25 years.
Youth Leadership New Braunfels is a program of the Greater New Braunfels Chamber of Commerce and the Leadership New Braunfels Alumni Association. This program for local high school sophomores and juniors aims to train students in leadership techniques and community awareness so they become familiar with current issues, community resources, opportunities and other factors influencing the direction of their community's future.
Help us congratulate the Youth Leadership Class of 2022!
Safiya Ahmed - New Braunfels High School
Bradlee Bechtol - Canyon High School
Anna Christian - Canyon High School
Stacy Cox - Memorial Early College High School
Lola Daffin - New Braunfels High School
Samantha de Lemos - New Braunfels High School
Emma Etheredge - New Braunfels High School
Nathalie Freiha - New Braunfels High School
Kenadi Garner - New Braunfels High School
Luke Gately - Canyon High School
Dillon Horadam - New Braunfels High School
Brynn Jendrzey - Canyon High School
Justin Johnson - Davenport High School
Ryan Johnson    Davenport High School
Jackson Lee - New Braunfels High School
Samuel Lillibridge - New Braunfels High School
Jadon Lindsay - Canyon High School
Elizabeth Maresh - New Braunfels High School
Kendyl Martinez - Canyon High School
Griffin Mayo - New Braunfels High School
Kayla Moczygemba -  St. John Paul II Catholic High School
Aiden Muckenfuss - Canyon High School
Katherine Palomo - New Braunfels High School
Pooja Patel - New Braunfels High School
Caroline Perches -  St. John Paul II Catholic High School
Kirsten Quantz - Canyon High School
Randi Rush - New Braunfels High School
Ryder Rutledge - New Braunfels High School
Brayden Sealey - Canyon High School
Madeline Seebeck -  St. John Paul II Catholic High School
Kyla Trlica - New Braunfels High School
Jackson Villagran - Canyon High School
Brooklyn Wiley - Canyon High School
Peyton Wirebaugh  - Canyon High School