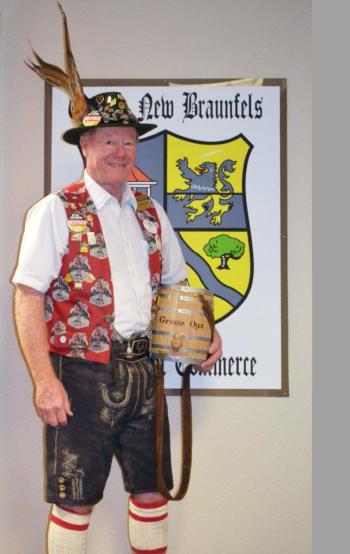 Some New Braunfelsers spend all year waiting for the first weekend in November because that means it's officially Wurstfest time. Rusty Brockman is one of those people. Brockman, the Chamber's Vice President of Economic Development, was chosen to serve as the Grosse Opa for the 57th Annual Wurstfest.
The 10-day Salute to Sausage kicked off last Friday with the ceremonial biting of the sausage. Grammy-nominated polka virtuoso Alex Meixner entertained at this annual tradition to celebrate the official Wurstfest opening. A keg of beer was also tapped and shared with the crowd.
The Chamber's history with Wurstfest goes back to the very beginning. The Chamber was a catalyst for launching the festival and administered Wurstfest from its inception in 1961 until 1986. Chamber Executive Director Tom Purdum worked with Ed Grist to create the festival which has now become one of the most popular Oktoberfest-style celebrations in the nation.
Brockman's association with Wurstfest doesn't go back quite as far as the Chamber's, but it is close. This year's Grosse Opa, an honorary title meaning "Big Granddaddy", has been officially involved with the festival since 1989 but has been attending since 1968 when he was a freshman in college. He earned his red vest in 1995 and served as President in 2007. His duties this year will be to serve as the "Spas Meister" to ensure everyone is enjoying their time and fun and fellowship is had by all.
Wurstfest runs from November 3 to 12 with dozens of entertainers on five main stages, a carnival, kid's area, souvenir and specialty vendors, the Masskrugstemmen contest, and food, food and more food! The festival has added several new and exciting promotions and services. Check out their website at www.Wurstfest.com or download their mobile app for all the info.