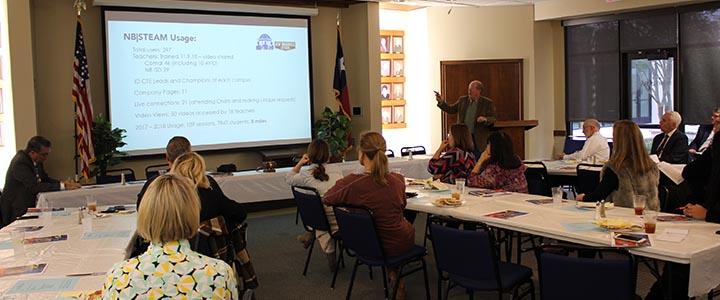 At today's Chamber Board of Directors meeting, an update was provided on the Bond Advisory Committee, a Chair of the Board Award was presented, and a panel of local experts gave an update on New Braunfels workforce strategies.
Pastor Ray Still, Chair of the City Bond Advisory Committee, gave an update on the 2019 Bond Program. Still lead the committee of 23 members with eight meetings and a bus tour over the past 10 months. The committee started with 155 potential projects and was able to narrow it down to 21 projects that were recently presented to the City Council.
After his presentation, Still was asked to remain at the podium as Chair of the Board Robin Jeffers surprised him with the announcement that he had been selected to receive the Chair of the Board Award in the field of community development. Read more about his award here.
The meeting ended with a New Braunfels Workforce Strategies Panel featuring Michael Meek representing the Braunfels Foundation Trust, Rusty Brockman discussing Nepris, Janice Roth from the Central Texas Technology Center, and Chester Jenke on economic development. Meek reported that the Braunfels Foundation Trust was founded in 1972 after receiving $1,500 from the people of Braunfels, Germany following a devastating flood. Since then the BFT created the Museum of Texas Handmade Furniture and the Heritage Society, acquired the historic Hinman House which is now home to Communities in Schools, established the Living Legends of New Braunfels program, gave 60 scholarships in 2017 and 72 in 2018, and donated $30,000 to the NB|STEAM workforce initiative.
Brockman gave an update on the Nepris program which digitally connects teachers and learners in the classroom with industry professionals. Since August, that program has had 50 video views by 18 different teachers and 21 live connections. Roth reported on CTTC's upcoming course schedule and training opportunities. Jenke concluded the panel by tying together the importance of workforce development and educational pathways beginning in pre-k with economic sustainability.