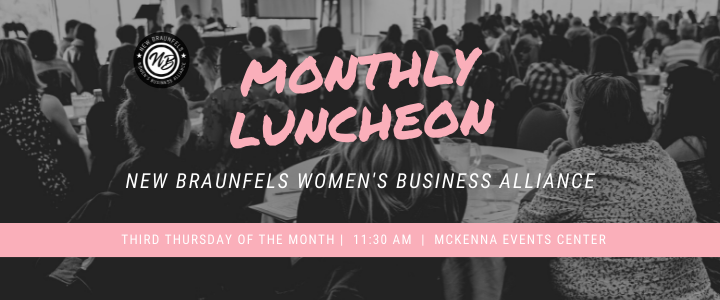 The Women's Business Alliance (WBA) will meet Thursday, March 10 at 11:30 a.m. in the McKenna Events Center for their monthly luncheon. Members and guests will hear of the success of the first New Braunfels Women's Conference held by the committee on February 8th, as well as enjoy time networking and mingling with new and old members. Lucinda Vela, Senior Business Advisor of the Spark Small Business Development Center, will give a presentation on the SBDC services available to New Braunfels Businesses.

Everyone is invited to attend so bring a friend or colleague with you. Luncheon costs $20 per person, including a raffle ticket and lunch. 
WBA members are encouraged to bring a raffle item to be raffled off at the luncheon. 
The New Braunfels Women's Business Alliance is a committee of the New Braunfels Chamber of Commerce. The mission is to increase success of women in business in the New Braunfels community through a forum of continuing education and networking. For more information on the Women's Business Alliance visit www.WomenInNewBraunfels.com.