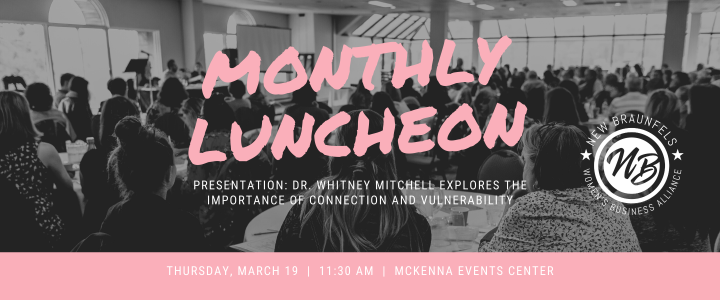 Join your fellow businesswomen for a networking and professional development luncheon on Thursday, March 19 from 11:30 a.m. to 1:00 p.m. at the McKenna Events Center. Women's Business Alliance luncheons are held monthly and feature a guest speaker providing a presentation on their business activities, a community initiative, or their path to success.
Luncheons also include networking, spotlight tables highlighting WBA members, and a drawing for fun door prizes. If you'd like to show off your business, you're welcome to bring a door prize to give away.
Non-members are invited to attend so bring a friend or colleague with you. Tickets are $15 for members and $25 for non-members. Ticket prices increase at the door.
This month's presentation will be given by Dr. Whitney Mitchell. Learn why we are hard-wired to form meaningful relationships and how connecting makes us happier. Dr. Mitchell explores the importance of connection and vulnerability using her favorite sciences: anthropology, evolutionary biology, psychology, and neuroscience.