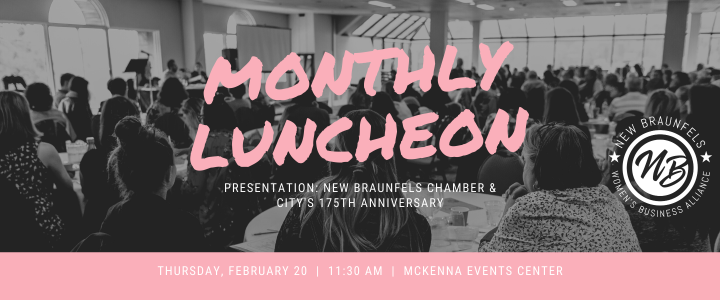 Join your fellow businesswomen for a networking and professional development luncheon on Thursday, February 20 from 11:30 a.m. to 1:00 p.m. at the McKenna Events Center. The newly-formed Women's Business Alliance will hold monthly luncheons featuring a guest speaker providing a presentation on their business activities, a community initiative, or their path to success.
Luncheons also include networking, spotlight tables highlighting Women's Business Alliance members, and a drawing for fun door prizes. If you'd like to show off your business a little, you're welcome to bring a door prize to give away.
Non-members are invited to attend so bring a friend or colleague with you. Tickets are $15 for members and $25 for non-members. Ticket prices increase at the door.
The February presentation will be an overview of the New Braunfels Chamber of Commerce and the City's 175th Anniversary celebration. With the recent merger of the former Women's Chamber and the New Braunfels Chamber, the Women's Business Alliance will hear directly from Chamber leadership on the organization's initiatives, membership benefits, and how the WBA fits into the system.