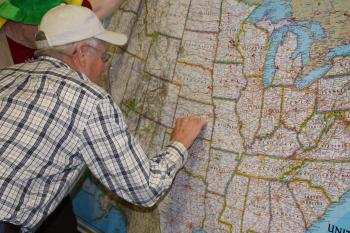 New Braunfels loves our winter visitors! The 50th Annual Winter Visitors Reception will take place on Wednesday, February 14 from 3:00 to 5:00 p.m. at the Civic Convention Center.
The Chamber's Convention and Visitors Bureau hosts this annual reception to welcome and honor our seasonal residents. More than 300 Winter Texans will fill the Exhibit Hall to enjoy music, food, drinks and fun. It is a perfect opportunity for winter Texans (often affectionately referred to as "snowbirds") to reconnect with old friends and to network with new ones.
Our city is always growing and adding new resources, services and attractions, so it is also a forum to learn about new developments in and around New Braunfels. Table sponsors will adorn the perimeter of this fun loving crowd and have a chance to meet and talk with many of these guests. There are only two tables left so contact Val (830) 625-7973 today and reserve your spot.