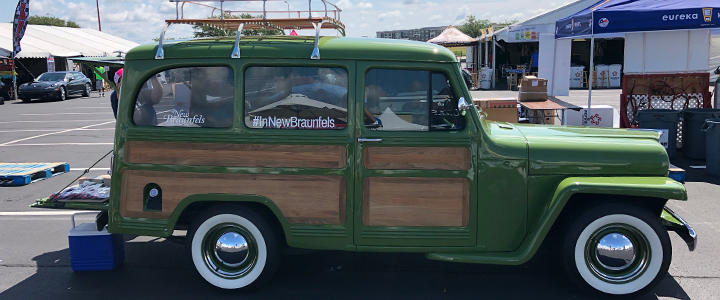 With the proliferation of craft breweries across the state, the Chamber's Convention & Visitors Bureau "hopped" at the opportunity to attend the Katy Brewfest. More than 50 breweries were on tap delivering a refreshing taste to more than 10,000 attendees.
The CVB used the infamous 1957 Jeep Willys to promote the Hill Country Craft Beer Trail. Many attendees were familiar with the vehicle due to its many features in TV commercials airing in the Houston market. Giveaways included t-shirts, bottle openers, coasters, and a unique New Braunfels Smokehouse jerky sampler.
It was delightful to hear that some of the attendees have planned summer vacations to New Braunfels and were interested in making the trail a part of their visit.
Where is Willys off to next? Here's a hint: It involves sand & seagulls…
Find out more about the Craft Beer Trail at www.HillCountryCraftBeerTrail.com