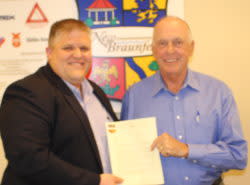 At today's Chamber Board of Directors meeting, Pat Wiggins received the Chair of the Board Award in the field of economic development. This award is designed to honor individuals who have made a significant contribution to the community in a specific field of endeavor, and no more than six recipients may be named in a calendar year.
Wiggins' local portfolio includes The New Braunfels Marketplace, The Post Annex which houses 2Tarts, 180 W. Mill which houses Got Toys, The Post Office, McAdoos Seafood Co., Lake Comal property along Loop 337, and the recently acquired Mamacita's Cantina and Restaurant. These properties have over 300,000 square feet of commercial retail and restaurant space in the community.
Wiggins moved to New Braunfels in 2002 with his wife Becky and quickly began making a positive impact on his newly adopted community. He is a member of several boards and commissions, including Hope Hospice, the Downtown Development Board, New Braunfels Entrepreneurship Board, Christus Santa Rosa Advisory Board, the New Braunfels Community Foundation Board, NBU Headwaters, and he served on the New Braunfels City Council.
Wiggins grew up in small West Texas communities and received his college degree from Texas Tech University. He moved to Dallas and began his lifelong career in commercial real estate. Wiggins worked for and with many industry leaders there and developed his desire to create quality projects. He started his own company in 1978 and has turned that once small business into the very successful diverse business that it is today.
"You have always understood and advocated quality in all your projects and we have been the beneficiary of you moving to our community and making a difference," said Chair of the Chamber Board of Directors Brandon Dietert while delivering the award.
For these reasons and many more, Wiggins is the fifth recipient of the Chair of the Board Award of 2017. Henry Ford received the award in the field of race relations in February, the Sophienburg's Myra Lee Goff was honored in the field of heritage preservation in April, local businesswoman and Pat's wife Becky Wiggins received the award in the field of philanthropy in May, and Jo Ann West of Fiesta Lanes was honored in the field of youth development in August. Wiggins will be invited as a special guest to the Annual Chamber of Commerce Banquet on January 26, 2018 where he will be further honored.