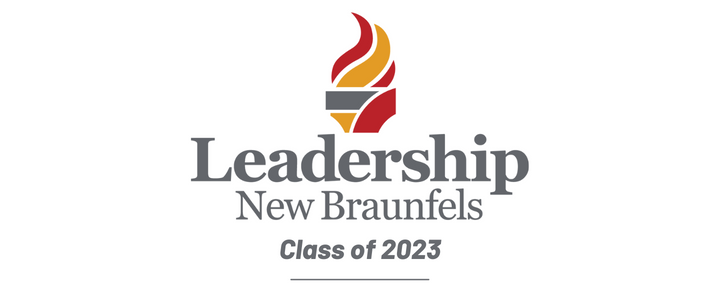 The Leadership New Braunfels class of 2023 has been selected and approved with 30 business representatives making the roster. The 2023 class marks the 31st group of business and civic leaders enroll in the program, which boasts an alumni association of more than 650.
Leadership New Braunfels strives to develop individuals to serve in leadership roles in their business careers and civic endeavors. Throughout the program, participants will have the opportunity to meet New Braunfels and Comal County leaders, build their leadership skills, and develop valuable relationships with their classmates.
The program consists of a series of one-day sessions, beginning in October, covering topics such as government, economic development, education, social needs, and other key segments of the community. Also in October, the class will participate in a Community Leaders Reception and a two-day, overnight retreat. In addition to attending the class days, participants will form teams to research a current economic or societal issue affecting New Braunfels and produce a research paper detailing the topic.
Participation in the program requires a serious time commitment and participants are expected to adhere to a strict attendance policy. Upon meeting attendance and participation requirements, the class members will participate in a graduation ceremony in May 2023 and become members of the Leadership New Braunfels Alumni Association. 
Leadership New Braunfels 2023 Class Roster: 
Usiosefe Aimiuwu  - CMIT Solutions of San Marcos & New Braunfels
James Blakey  - City of New Braunfels
Harry Bowers  - Texas State University
Rebecca Brown - Edward Jones
Renee Couch - Comal County
Blythe Cox - Broadway Bank
Dirk Davidek - Davidek Law Firm, PLLC
Canaan Dreibrodt - Comal ISD
Doreen Fisher - Retired
Cara Frederick - ME360
Joel Gonzales - Professor Graybeard
Heather Harrison - Hope Hospice
Elizabeth Joost - RBFCU
Lyndsay Krom - SVN | Traditions
Courtney Lyons-Garcia - Great Springs Project
Carrie McAlister - Patrick S Molak Corp
Tiffani McCorquodale - Corridor Title
Scott Joseph Mikos - Department of the U.S. Air Force
Hannah Mills - Alliant Insurance Services, Inc.
Nicholet Murray - GuadaComa Mechanical, Inc.
Jonathan Packer - New Braunfels Chamber of Commerce
Emily Roblin - Mission Physical Rehabilitation
Jason Smith - SpawGlass Contractors, Inc.
Rianne Sykes-Wenske - Big Brothers Big Sisters
Austin Talley - Texas State University
Jessica Thomas - Pure Barre
Beverly Trollinger - City of San Marcos
Jessica Walker - New York Life
Craig Wilson - Lockwood, Andrews and Newman
Nicole Winningham - Oldham Goodwin