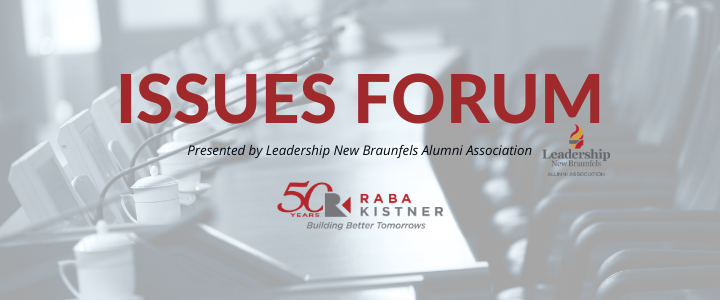 The Leadership New Braunfels Alumni Association will host an Issues Forum via Zoom on Monday, July 13 from 11:30 a.m. to 1:00 p.m. The forum will feature a panel of community leaders who came together over the past few months to make decisions on public health. The forum is open to all Chamber members. Tickets for the event are $10 and all proceeds will benefit the Youth Leadership New Braunfels program. This event is sponsored by Raba Kistner Consultants. 
The purpose of this panel is to highlight partnerships that happen in the community surrounding public health. The COVID-19 pandemic has been a great example of how this group worked together to make decisions affecting the community, oftentimes with little information and a very short timeline. 
The Alumni Association is committed to encouraging community involvement and to providing its members with opportunities for networking, personal growth, and professional development.