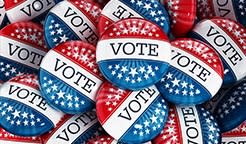 Comal County voters wishing to cast a ballot in the March 6 primary election must register to vote by Monday, February 5. Those who have not yet registered to vote can do so in person at the Comal County Elections Center, 396 N. Seguin Ave., or they can print and mail an application from the Texas Secretary of State website. Applications must be postmarked by February 5.
The March 6 primary in Comal County contains contested primaries on both the Republican and Democratic sides for U.S. Senate, U.S. House District 21, Texas governor, lieutenant governor, land commissioner, railroad commissioner and Texas Senate District 25.
Contested races only on the GOP side include Comal County criminal district attorney, Precinct 4 commissioner and two justices of the peace, as well as U.S. House District 35, state agriculture commissioner, Texas House District 73, two seats on the Court of Criminal Appeals and a seat on the state's 3rd Court of Appeals. Democrats also have a contested primary for state comptroller.
Early voting for the election begins February 20 and ends March 2. Sample ballots, voting-precinct maps, and early voting times and locations can be found at the Comal County elections webpage, www.VoteComal.com.
In the event no candidate receives more than 50 percent of the vote in a given race, a primary runoff will take place May 22, for which the voter registration deadline would be April 23.