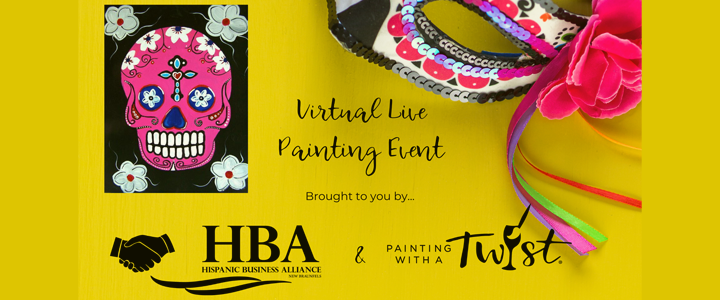 The New Braunfels Hispanic Business Alliance may not be having its annual Dia de los Muertos festival this year, but we can still memorialize and celebrate. The HBA will be hosting a virtual event with Painting with a Twist on the afternoon of Sunday, October 18.
Open to everyone, painting kits are $37 and will include everything you need to complete your at-home, Dia de los Muertos themed work of art – from your canvas, to paints and brushes.
Pre-registration is required in advance - learn more about the virtual event and sign up for your at-home painting kit using the link below.

In addition, a small group will be gathering at Vicky's Hinterhof to paint their sugar skulls together. Space is limited in order to allow social distancing, so please sign up using the link below to reserve your seat in-person.
https://www.signupgenius.com/go/30e0d49aea72fa4f49-hbapainting
The Hispanic Business Alliance (HBA) supports and encourages Hispanic participation in the New Braunfels business community. The HBA was formed to promote, advocate, and educate the Hispanic community with the goal of improving opportunities for success. For more information on this committee, or any of the Chamber's committees, visit www.CommitteesInNewBraunfels.com.