Val Preusser has been the Highway Visitor Center Coordinator for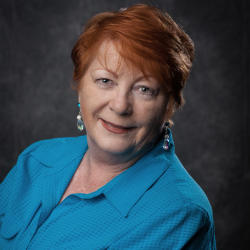 the Chamber's CVB for 10 years. Preusser has the pleasure of working with some of our communities most generous & gracious individuals: our visitor center counselors. These individuals are the sole reason that the Highway Visitor Center is open 363 days out of the year.
Preusser has lived in New Braunfels since 1956. She married a local boy and raised two sons. She is blessed to have her father of 93, both of her sons, five grandchildren and four great-grandchildren, all living in the area.
Fun Facts:
What is one thing on your bucket list? Hot Air Balloon ride
Who is your favorite superhero? Thor
If you could go on a free vacation anywhere in the world, where would you go? ​Egypt to see the pyramids.