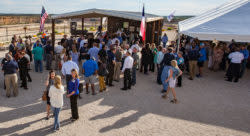 Do you get excited or anxious about networking events? When you go to events do you have a method for meeting people and collecting leads or do you simply socialize? Do you leave with new connections or empty handed?
The Chamber's NB Business University will host a seminar on Thursday, October 5th to help business leaders get more out of networking events and make sure their networking efforts are resulting in better business connections. Maximize Your Networking Efforts will be held from 11:30 a.m. to 1:00 p.m. on Thursday, October 5 at the Chamber in Honors Hall. Tickets are available at www.SmallBusinessInNewBraunfels.com.
At this seminar, Cristina Zalaznik, networking specialist and Director of Marketing at ADKF, will coach participants on how to become a connector and expand relationships in the community. Learn how to prepare for a networking event, how to get leads, organize them most effectively for follow up, and make your efforts effective. At the end of the seminar, you will put it all into practice with a speed networking session. This interactive and engaging seminar will benefit experts and novices alike.
Tickets are discounted for Chamber members at $55, available to the general public at $80 and include lunch. For more information and to purchase tickets, visit www.SmallBusinessInNewBraunfels.com. This event is sponsored by Riverstone Advisors, LLC.