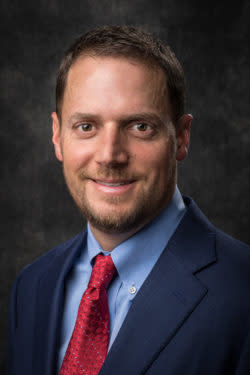 Travis Wuest is a 3rd generation co-owner and operator of Natural Bridge Caverns and a 5th generation rancher in Comal County.  The Caverns are a top attraction in Texas and have been designated a National Natural Landmark and State Historical Site.
He grew up on the family ranch and working at the Caverns.  After graduating from Canyon High School, Travis attended Texas A&M University where he graduated with a BS in Recreation Park and Tourism Sciences as well as a Business Minor.  Travis oversees all marketing and public relations activities at Natural Bridge Caverns and along with his brother Brad Wuest and mother Joye Wuest, works daily to direct all aspects of the operation.  He is a member of the Texas Travel Industry Association and the National Caves Association.  He is a past chair of the Texas Nature Tourism Council and the New Braunfels Convention and Visitors Bureau's Strategy and Steering Committee.
Travis is married to his College sweetheart Jennifer Wuest who attended New Braunfels High School.  They are both active members of Oakwood Baptist Church and are working to raise three children, Morgan age 9, Ryan age 8, and Logan age 5.  Their hope is that one day their children will carry on the family's legacy of conservation and nature-based family fun.
Fun Facts:
What is your favorite flavor of ice cream?  Blue Bell Pecan Pralines
If you could time travel, what time period would you visit first?  I would go back to meet and see Jesus when he walked the earth.
Who is your all-time favorite musician or band?  Marty Robbins