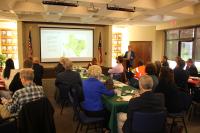 At today's Chamber Board of Directors Meeting, representatives from the Texas Department of Transportation (TxDOT) and the San Antonio Mobility Coalition (SAMCo) provided updates on regional transportation projects and funding sources. Also at the meeting, the 2020 Plan of Action was approved, Brandon Dietert was elected to the Braunfels Foundation Trust, Life Memberships were presented to Jan Kingsbury and Coby Baese. Robin Jeffers, Charles Stephens and Bennie Bock were inducted into the Hall of Honor.
Jonathan Bean, director of transportation planning and development for the San Antonio District of the TxDOT, started his presentation with the #EndTheStreakTx campaign, a push for safer driving techniques, noting there is an average of 10 fatalities a day on Texas roads. TxDOT is launching the Highway Emergency Response Operation in the San Antonio region in early 2020 to help relocate minor accidents, assist with stranded motorists and clear lane debris. Bean also gave an update on current and upcoming projects, including a displaced left turn lane at Creekside.
Vic Boyer, President and CEO of SAMCo, provided information on funding sources for transportation projects. SAMCo advocates for funding for the San Antonio region, including New Braunfels, and has helped secure more than $7.1 billion for area projects since 2005. Even with all of the secured funds, there is still $13 billion in unfunded projects in the region. Included in potential issues for the legislative interim and 2021 Texas Legislation Session are protection of existing funding base, a fee in lieu of gas tax for electric vehicles, an optional vehicle registration fee, ATD sales tax, indexing all current transportation fees and taxes, and federal reauthorization of FAST Act.