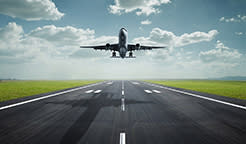 The Chamber's Transportation Committee is set to meet for their regular monthly meeting on Tuesday, November 7, in Honors Hall at 7:30 a.m. Ian Perez, Raba Kistner Consultants, Inc. engineer, is Chair of the committee and will preside at the meeting. The committee will hear update reports on area road projects from local engineers Tom Hornseth, Garry Ford, and Will Lockett.
The program will be presented by Robert Lee, New Braunfels Regional Airport Manager, who was hired in August. Lee will provide attendees with information about himself, his previous experiences in other locations, and what he sees as his major goals for the New Braunfels Airport.
The Transportation Committee's primary task is to be a catalyst and promoter of new and expanded transportation in our trade area. This committee works to keep communication going between business and TxDOT, the City and the County. This Chamber committee meets the first Tuesday of every month at 7:30 a.m. in Honors Hall. For more information on this committee, or any of the Chamber's committees, visit www.CommitteesInNewBraunfels.com.