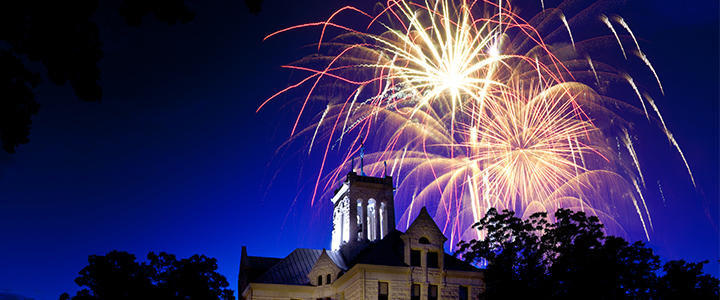 The Annual Fireworks for July 4th were rescheduled for Sunday, September 2nd during Labor Day weekend. Festivities will kick off at 6:30 p.m. at the Landa Park Dance Slab with a free concert featuring the J Abram Band. FM31 Food Trailer and Grouchy Mama's will be on-site with food for purchase, and Kona Ice and Tikiz Shaved Ice will also be in the park. The sky will light up with the fireworks display at 8:30 p.m. Residents and visitors are encouraged to tune in to KGNB 1420 AM to listen to the live broadcast of patriotic music timed to accompany the fireworks display.
The Landa Park Golf Course at Comal Springs will be open at 6:00 a.m. and tee times will begin at 7:00 a.m. with the last tee time at noon in preparation for the evening fireworks display.
The fireworks show is presented by the City of New Braunfels and sponsors H-E-B and KGNB 1420 AM. Residents and visitors are encouraged to come early, expect large crowds and be mindful of park rules.
For additional information, contact the City's Parks and Recreation Department at 830-221-4350.