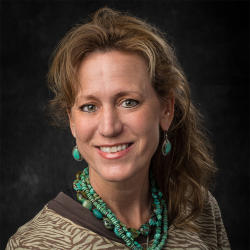 Tiffany Soechting serves as the animal specialist and marketing director at Natural Bridge Wildlife Ranch, Texas' longest running and most visited safari park. 
Soechting began her journey at the Wildlife Ranch in 1985, working summers and weekends. After earning her degree in Animal Science from Texas Tech University in 1992, she returned to the ranch in her full-time position. 
Over the last 24 years, she has played a vital role in the organization's growth with the addition of an array of endangered species including the Southern White Rhinoceros, Scimitar-Horned Oryx, Arabian Oryx, Bongo, Red Ruffed Lemurs, Lar Gibbon and the success of the ranch's giraffe breeding program. In 2013, the Wildlife Ranch received international news acclaim with the birth of rare twin reticulated giraffes.  In the 34 years of operation, the giraffe program has just nurtured the 34th giraffe baby. 
Soechting has served on numerous boards and committees within the Texas tourism industry, including New Braunfels Chamber of Commerce Board of Directors, New Braunfels 175th Celebration Committee, CHRISTUS Hospital, New Braunfels Christian Academy School Board, New Braunfels Leadership Class of 2002, San Antonio Stock Show and Rodeo Life Member and Auction Committee, currently serving as chair of the New Braunfels Convention & Visitors Bureau Strategy and Steering Committee, and the San Antonio Tourism Council.
In her early years at the Wildlife Ranch, she developed their education program that now hosts thousands of school children annually. The special program includes guided tours through the ranch and hands on, up close, programs in the Longneck Learning Center. The Learning Center is a classroom that is actually constructed inside one of the giraffe facilities.  This gives children a unique, intriguing perspective of the animals which we share our world.
Fun Facts:
What was your favorite toy growing up? Nanners, my stuffed monkey.
If you could have dinner with anyone, past or present, who would it be? My grandmother, who had a huge impact on my life. Famous person? Matthew McConaughey... I need to recruit that boy's voice for a giraffe endangerment documentary!
What is your favorite animal? One??? The closest I can come is two... giraffes and gibbons.