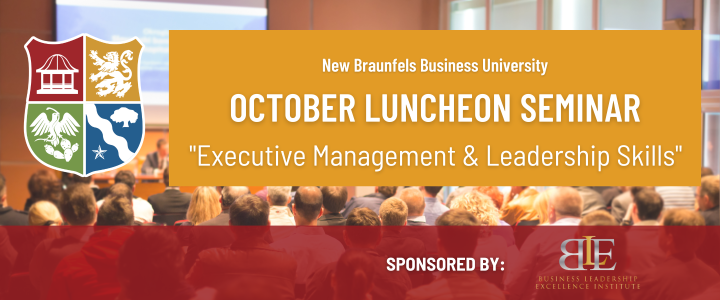 Join the NB Chamber of Commerce for a seminar dedicated to your 'Executive Management & Leadership Skills' success!

The October NB Business University Luncheon Seminar will present "Executive Management & Leadership Skills" presented by Kerstin Oleta, CEO & Founder of Business Leadership Excellence Institute.
HOW you present yourself and lead your teams can make all the difference in creating your next success. Up level your business with powerful tools to create influence in your industry, enhance your presence with your colleagues, and gain more achievements in your industry!
With this NBBU Luncheon Seminar presented by BLEI, you will learn the answers to:
How do I successfully move from being the top contributor to an effective leader.
How can I create better communication, presence, and production while supporting the morale of my teams and organization?
How do I manage the pull between managing my teams and producing for upper management?
Are you thinking about how people perceive you in virtual meetings?
Network before & after the event and enjoy lunch during the seminar.
The luncheon will be held on Thursday, October 26, 2023, from 11:30 a.m. to 1:00 p.m. in Honors Hall at The New Braunfels Chamber of Commerce.
Tickets to the Luncheon are discounted for Chamber Members at $30 and available to the General Public at $35.


This NBBU Luncheon Seminar is presented by the Business Advisory Committee for the New Braunfels Chamber.
*Interested in sponsoring, presenting, or being a part of our Business Seminars? Contact Jennifer Watson Russell (Jennifer@InNewBraunfels.com) for assistance.