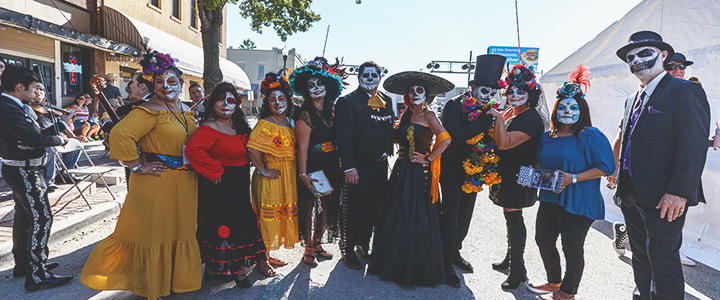 Today as I think of all the activities and the hustle we would be doing to get ready for our 5th Annual Dia de los Muertos festival, my thoughts take me back to the beginning. We came together as a group of all walks of life with one common denominator…we all had experienced loss of loved ones. Our main goal was to honor the traditions and foundation of "why" we celebrate Dia de los Muertos. We hoped for 500 people that day and wow were we blown away! Five years later we are still creating a memorable day for our community and for all those that travel to be here.
Even though we were not able to carry on with "normal" festivities for 2020 we are still excited about the ways we will be able to honor our loved ones who are no longer here. It's been our mission to educate the meaning behind this colorful tradition. As the Hispanic Business Alliance organization under The Greater New Braunfels Chamber of Commerce I feel we have been able to educate our community on the traditions of celebrating the lives that have imprinted our paths and communities. These last few years have brought thousands of people out to our unique city to celebrate, honor, eat, dance, laugh, cry and to have been a part of that from the very beginning has been an honor. When I lost my father over year ago, Dia de los Muertos reminded me to remember him, tell stories of him that made me laugh and cry but the main thing was to keep him alive with my stories of him.
These past five years have been a beautiful journey to see Dia de los Muertos grow and when I think of all the hard work the HBA does behind the scenes to make that day happen, it is so worth it when my boots take those first steps, mariachis in front of us playing music to lead our walk to the ofrenda. To see the street lined with people with every emotion, the smell of authentic food, seeing papel picado waving with the wind, the faces painted with all colors of the world, cempazuchitl lining the ofrenda with candles and pan de muerto. A festival like no other…I am looking forward to next year and keeping Dia de los Muertos alive in New Braunfels, TX!
Shelley Bujnoch
Chair of the Hispanic Business Alliance