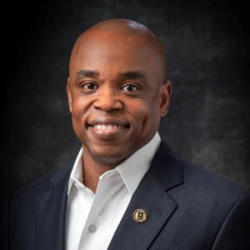 Veterans are an invaluable asset to New Braunfels. In fact, there are around 548 veteran-owned businesses in Comal County that contribute significantly to our local economy. Each dollar of retirement and compensation pension they spend in New Braunfels benefits our local economy. Out of the 13,460 veterans in Comal County, 5,915 live in New Braunfels.
Veterans demonstrate leadership, loyalty, integrity, dedication, and teamwork. They display great attention to detail, discipline, tenacity, and selfless service. These attributes also describe all those who step up in the community.
Like Mr. Brad Ramey, U.S. Army Veteran, he is the coordinator for the Veterans Treatment Court (VTC) that Judge Charles Stephens oversees. It began operating in 2016. Since then, the VTC has diverted 215 veterans from the traditional criminal justice system and has provided them with the tools they need to reintegrate into our community with no recidivism from the graduates. 
In 2021, Lawrence Spradley, U.S. Army Veteran, was elected City Councilman, District 4. Some issues facing our city can be challenging. "The military has taught me to look at issues from as many sides as possible and derive a best-case solution," said Lawrence. 
In 1996, Mr. Jim Powell left the Marine Corps after eight years. Like many other veterans, he felt a little lost. However, he knew three things for sure after military service: he was a leader, he wanted to succeed, and he had to provide for his family. 
He helped open three new manufacturing plants in the United States and Mexico. Currently, he is the Director of Operations for a global manufacturing company, Canadian General Tower, and New Braunfels Manufacturing Association president. 
A "kid" who barely passed high school and had no college degree went on to mentor many young adults in two countries to become high-level leaders of organizations. Jim's story is extraordinary but not unique among veterans.
Prior military service is one of the strongest predictors of who is most likely to start a business. I think of Mr. Douglas Miller, a U.S. Army veteran, American businessman, and politician. Miller and other veterans like former U.S. Marine Corps Sergeant and New Braunfels Chamber of Commerce CEO Mr. Tom Purdum have been successful, in part because of their military acumen and leadership attributes. Because of veterans like Purdum and Miller, we have Leadership New Braunfels, a program of which many leaders in our community are proud graduates.
Veterans' selfless service is modeled through community volunteerism. They serve through organizations like Rotary International, Lions Club, and Veterans of Foreign Wars. For instance, Mr. Don Ingram, a retired U.S. Air Force Chief Master Sergeant, is Commander of the Walton F. Hoffmann American Legion Post 179. This veteran-based non-profit offered scholarships and certificates to high school students, ROTC Cadets, middle-schoolers, and 5th graders, to enhance and reward good academic and civic behaviors.
The city of New Braunfels will continue to benefit from veterans' contributions because of the connection between military experience and community improvement. From one veteran to another, I call on all my fellow veterans to join with other leaders to help continue to make New Braunfels the best community to live, work, and play.
Steve Cornelius
Board Member, New Braunfels Chamber
Colonel (Retired), United States Army