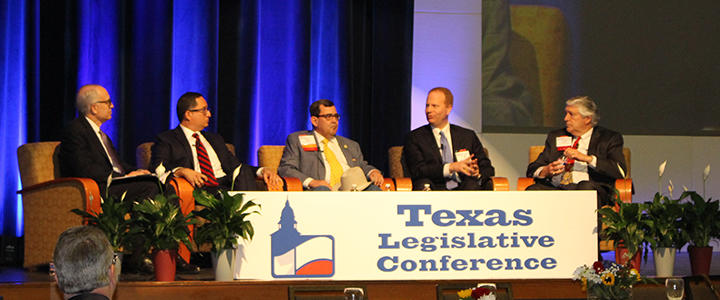 The Chamber's 53rd installment of the Texas Legislative Conference is officially completed. More than 400 business and political leaders from around Texas came to this nonpartisan event held last Thursday and Friday at the New Braunfels Civic Convention Center.
The event kicked off with a Texan of the Year Reception honoring retired U.S. Congressman Lamar Smith. Two special video introductions were provided: one by former U.S. Speaker of the House Paul Ryan and the other by current U.S. House Minority Whip Steve Scalise. Smith accepted his award with his family in the audience. He was very appreciated of his award and was happy to stop and take pictures with anyone who asked.
The half-day conference on Friday had a full schedule and focused on two of the priority issues being addressed this legislative session. The morning began with breakfast, a welcome by conference chairs E. Ray Covey and Daniel Gonzalez, and the presentation of the Edmund Kuempel Public Service Scholarships by State Representative John Kuempel.
The day continued with three panels and two special addresses. The first two panels were Changing Demographics in Texas and Property Taxes and School Finance. A special address was then provided by Lieutenant Governor Dan Patrick who expressed his optimism about the current legislative session, the collaboration happening between both the House of Representatives and Senate and the bipartisan attitude between lawmakers.
The final panel, Transitions in the Legislature, was followed by lunch and a keynote address. TEA Commissioner Mike Morath provided the engaging address focused on the state of Texas education system. While he said it still needs work, he did provide data and anecdotes pointing out that we're moving in the right direction.
Next year's event will take place on March 26 and 27 right here in New Braunfels with a full slate of business leaders and elected officials. The conference is the most successful of its kind in the state and gives our members the opportunity to become better informed about the major issues of the time. It has also enhanced the image of the community in the eyes of state and national decision makers, giving members better access to programs and funding.