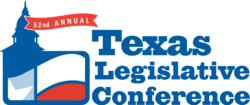 The 52nd edition of the Texas Legislative Conference will kick off this Thursday evening with a reception in the New Braunfels Civic Convention Center. Then, Friday morning the half-day conference begins with multiple presentations and speakers on the issues most interesting to fellow Texans.
The conference has been a sell-out for months thanks to 2018 Texan of the Year honoree George Strait. Strait will accept the award at the Friday noon closing luncheon and will speak on Hurricane Harvey recovery efforts. Prior to that, John Sharp, Texas A&M Chancellor and Chair of the Commission to Rebuild Texas, will address attendees, estimated at 900, at 8:45 a.m.
Following Sharp's remarks, three consecutive panels will occur, featuring the topics of Hurricane Harvey Impacts on Texas, a media panel on the Texas Primary Results, and the Federal Tax Reform Acts Impact on Texas. Panelists include state elected officials and experts in each topic. The conference is dedicated to long-time Conference Committee member Bennie Bock, who has served on either the Advisory or Arrangements Committee for 45 years.