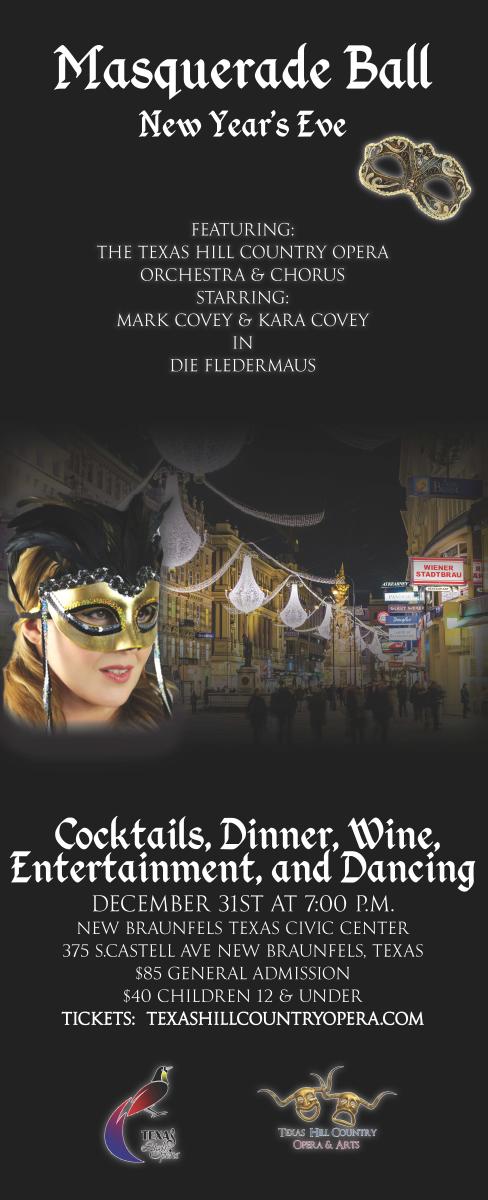 Texas Hill Country Opera & Arts and Texas Light Opera announce their artistic collaboration of a Masquerade Ball showcasing Act II of the operetta Die Fledermaus by Johann Straus of Vienna, Austria on New Year's Eve, December 31, 2018.  Written in 1817, Die Fledermaus (the bat) has been a holiday tradition around the world ever since.  The party scene of Act II will additionally feature talent acts by Hill Country talent ranging from Street Break Dancing, Concertina, Classical Guitar, magic, an outstanding flautist, tap and the Texas Hill Country Opera orchestra and chorus. 
Die Fledermaus, a hilarious comedy, has been performed in Vienna Austria annually since 1874.  It made its debut in New Braunfels in 2014 and now is celebrating the fourth annual gala and ball. 
The evening will begin with a 'welcome to the ball' reception from 7:00-8:00 p.m.    The Streets of Old Vienna will come alive in New Braunfels with street musicians and all the frivolity of a masquerade ball with festive music, light & sound, food and drink.
Some of the area's finest talent have been cast in the lead roles for Die Fledermaus: Kara Covey(Rosalinda), Mark Covey (Eisenstein), Jennifer Quintero (Count Orlofsky), Keeley Hooker, (Adele) and celebrity surprises such as the 'Viennese Party Promenader" and more.
The event will be held at The New Braunfels Civic/Convention Center, 375 S. Castell Ave., New Braunfels, Texas.
Texas are available at:  www.texashillcountryopera.com.  $85 for adults (inclusive), and $40 for children under twelve!