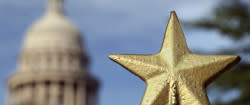 The Chamber's Government Affairs Committee will meet Thursday, June 14 at 7:30 a.m. in Honors Hall for their regular monthly meeting. Texas Economic Development Council President/CEO and native New Braunfelser Carlton Schwab will give a recap of how the recent Legislative Session will impact local and state-wide business recruitment and retention efforts and programs.
Also, what's the latest with the South Castell Ave. Development? A once-in-a-lifetime opportunity awaits to redevelop 10-acres of prime real estate in downtown New Braunfels. The City Council adopted the Visioning Plan in November of 2018 but what is happening now? Chamber President Michael Meek will give an update on the status of the development.
The Government Affairs committee focuses on local, state and national issues that are important to business and have an impact on the local area. For more information on this committee, or any of the Chamber's committees, visit www.CommitteesInNewBraunfels.com.