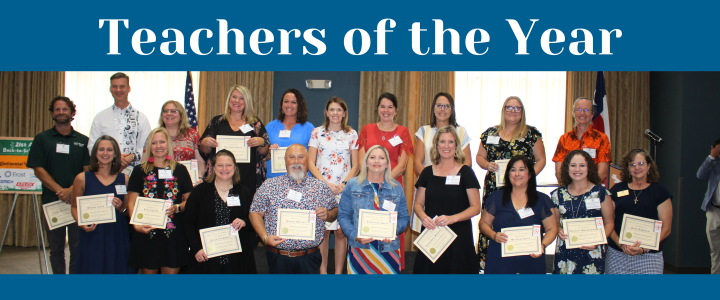 The Business-Education Partnership and the New Braunfels Chamber of Commerce hosted its 21st Annual Back-to-School Luncheon on Thursday, August 3rd to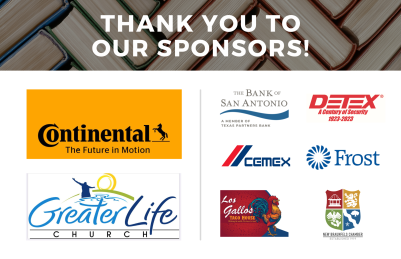 celebrate the 2023 Teachers of the Year honorees from area school districts. Twenty-two teachers and education professionals were honored at the luncheon, and received certificates of recognition, letters of support from elected officials, and a gift courtesy of our event sponsors. Retired New Braunfels ISD educator Beverly Trollinger spoke about the importance of having meaningful relationships with students and shared wisdom from her 25+ year career in education.
We had a great time honoring these education professionals and wish them the best as they begin another year of school. Congratulations to our 2023 area Teachers of the Year!
Comal ISD
Alice Tuckness - Elementary Teacher of the Year
A'ndrea Fisher - Secondary Teacher of the Year
New Braunfels ISD
Cathleen Jenkerson - Elementary Teacher of the Year
Melinda Kniseley - Secondary Teacher of the Year
Communities in Schools of South Central Texas
Tanisha Workman - CIS Pacesetter of the Year
Marion ISD
Kassidy Walsingham - Primary Teacher of the Year (Krueger Campus)
Melissa Equia - Primary Teacher of the Year (Karrer Campus)
Jennifer Lynn Lott - Middle School Teacher of the Year
Mallory Tesch - High School Teacher of the Year
Navarro ISD
Heather Hayes - Elementary Teacher of the Year
Megan Lopez - Intermediate Teacher of the Year
Kari Cooper - Junior High Teacher of the Year
Michelle Blount - High School Teacher of the Year
Daniel Meyers - High School Teacher of the Year
New Braunfels Christian Academy
Kate Karbach - Elementary Teacher of the Year
Lauren Gadberry - Middle School Teacher of the Year
Chris Murrell - High School Teacher of the Year
Premier High School of New Braunfels
Kyle Forlano - Teacher of the Year
Seguin ISD
Stephanie Weaver - Elementary Teacher of the Year
Christina Smith - Secondary Teacher of the Year
St. John Paul II Catholic High School
Tim Fisher - Teacher of the Year
Sts. Peter & Paul Catholic School
Tammy Zgabay - Teacher of the Year