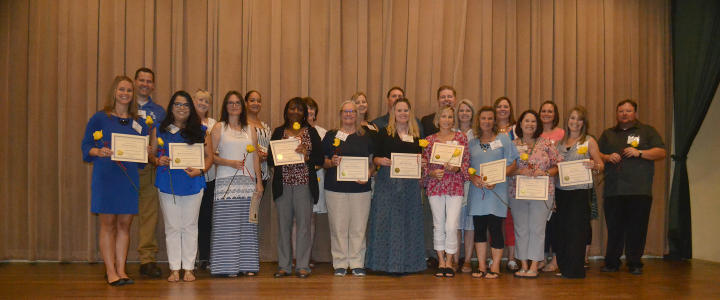 The Chamber's 18th Annual Back to School Luncheon was held on August 8, 2019 at the Seekatz Opera House in downtown New Braunfels. The luncheon is a program of the Chamber's Business and Education Partnership (BEP) Committee. The purpose of this event is to recognize and honor area Teachers of the Year from more than 13 schools and school districts in the central Texas area.
The event is sponsored by area businesses to provide no charge to the teachers. The honorees are joined by family members, campus and central office administrators and school board members. The BEP committee members are involved in the planning and program for the day, and the teachers are presented with a certificate and yellow rose.
In an effort to show support for the schools in New Braunfels and Comal County, the BEP Committee created this event as a way to connect business and education thus achieving the goals of the Chamber's committee. The honorees are selected by their home schools, and then compete at the district level for primary, elementary, and secondary Teacher of the Year, where some of these local teachers are forwarded to the Regional Level as nominees.
This Chamber event showcases the heart and soul of public education—the teachers! This year's honorees are shown below. For more information on this committee, or any of the Chamber's committees, visit www.CommitteesInNewBraunfels.com.
Wendy Zamzow, District Teacher of the Year, Boerne ISD
Rishanne Frech, Elementary Teacher of the Year, Comal ISD
Tyler Clements, Secondary Teacher of the Year, Comal ISD
Cassandra Hemphill, CIS Pacesetter of the Year, Communities In Schools South Central Texas
Kimberly Garcia, Primary Teacher of the Year (Krueger Campus), Marion ISD
Rachel Zimmerman, Primary Teacher of the Year (Karrer Campus), Marion ISD
Jodi Heyen Smith, Middle School Teacher of the Year, Marion ISD
Clint Bingham, High School Teacher of the Year, Marion ISD
Erik Woods, Elementary Teacher of the Year, Navarro ISD
Katie Rietz, Intermediate Teacher of the Year, Navarro ISD
Mike Thompson, Junior High School Teacher of the Year, Navarro ISD
Sarah Halton, High School Teacher of the Year, Navarro ISD
Jane Stewart, Elementary Teacher of the Year, New Braunfels Christian Academy
Jennifer Basso, Middle School Teacher of the Year, New Braunfels Christian Academy
Amy Douglas, High School Teacher of the Year, New Braunfels Christian Academy
Shelby Atchley, Elementary Teacher of the Year, New Braunfels ISD
Trent Wenzel, Secondary Teacher of the Year, New Braunfels ISD
Sharon Jones, Teacher of the Year, Premier High School of New Braunfels
Michelle Sandoval, Elementary Teacher of the Year, San Marcos Consolidated ISD
Brenda Voyles, Secondary Teacher of the Year, San Marcos Consolidated ISD
Carolyn Connelley, Elementary Teacher of the Year, Schertz-Cibolo-Universal City ISD
Becky Williams, Secondary Teacher of the Year, Schertz-Cibolo-Universal City ISD
Serena Georges-Penny, Norma Paschal Commitment to Children Award Winner, Schertz-Cibolo-Universal City ISD
Candace Hartmann, Elementary Teacher of the Year, Seguin ISD
Laci Stamm, Secondary Teacher of the Year, Seguin ISD
Martha Sweeney, Teacher of the Year, St. John Paul II Catholic High School
Jana Proff, Teacher of the Year, Sts. Peter & Paul Catholic School