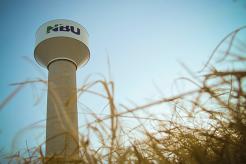 At today's Chamber Board of Directors meeting, New Braunfels Utilities CEO Ian Taylor was the guest presenter. Taylor spoke on the NBU capital programs, their bond rating, and rates.
According to Taylor, NBU's budgeted expenditures consist of capital projects, operating expenses, and capital equipment. The local utility has a record amount of capital projects underway and planned. He reviewed current and coming electric distribution substations, as well as their capital plan for system expansion. 
Water supply up to 2040 was chronicled, showing the utilities stewardship of this resource. NBU has a diverse supply source and is working to fix system deficiencies to stay in regulatory compliance. Wastewater is another area of capital investment with projects such as the Gruene Treatment Plant, now under construction. Taylor also explained the North Kuehler Interceptor Alignment by showing maps.
NBU's bond rating is AA Median, which places it among the best in the state. In addition, new revenue sources were outlined for the next five years. Goals for the water and sewer rates were outlined as well as water rates for NBU customers as compared to others in the region. NBU rates are the lowest for water users in the 6,000 gallon, 25,000 gallon, 40,000 gallon without average irrigation or high irrigation. 
Local commercial customer rates-costs for water are also the lowest in the region via comparisons of 5,00 gallons, 50,000 gallons, 200,000 gallons, or 500,000 gallons. Despite coming rate increases, NBU water and wastewater rates will remain among the lowest in the region.