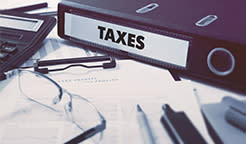 The New Braunfels Jaycees will hold their monthly Leadership Luncheon Thursday, January 18 at noon in Honors Hall. The program will be provided by Nathan M. Robnett, CPA/PFS, of Robnett & Co. CPA's.
Robnett will provide a review of the recent Tax Cuts and Jobs Act and how it will affect both personal and business finances. President Trump signed the "Tax Cuts and Jobs Act" into law on Dec. 22. Both the Senate and the House passed the bill on Dec. 20. The law cuts corporate tax rates permanently and individual tax rates temporarily. It permanently removes the individual mandate, a key provision of the Affordable Care Act.
You do not have to be a member to attend. The luncheon is free for Jaycees members, $10 for non-members and lunch will be provided. Payment will be taken at the door. For more information email Jenna@InNewBraunfels.com.
The Jaycees are New Braunfels' young professionals organization offering networking, volunteer, leadership development, community engagement, philanthropy, and professional development opportunities to our community's next generation of leaders.