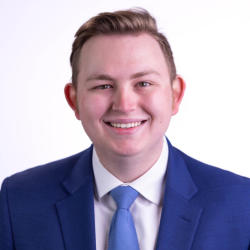 Tate Korpi serves as the Economic Development Data Analyst for the Greater New Braunfels Chamber of Commerce and the New Braunfels EDC. Tate supports the Vice President of Economic Development and President & CEO by collecting, managing, and analyzing economic, demographic, and social data, conducting research studies, and implementing this data in Chamber publications and marketing materials.
Tate is a fourth-generation native of New Braunfels and graduated from New Braunfels High School. He then attended Baylor University, recently graduating with a Bachelor of Business Administration in Economics and Public Policy. While studying at NBHS and Baylor, Tate completed various public service and policy internships on the local, state, and national levels, including positions with the Greater New Braunfels Chamber of Commerce, Comal County District Attorney's office, the Texas Senate, and a national political committee in Washington, DC.
Upon his graduation from Baylor, Tate re-joined the Greater New Braunfels Chamber of Commerce in November 2022 full-time after first serving here as an intern in high school. He is excited to be returning to the community he loves during this exciting period of growth in Greater New Braunfels.
In his free time, you can find Tate cooking, exploring the Texas Hill Country, supporting the Baylor Bears, and playing with his two dogs, Ruby and Winnie.