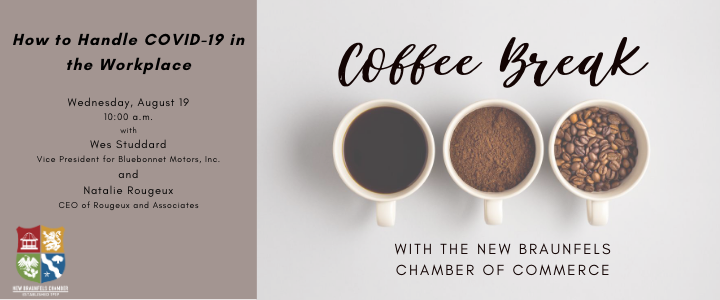 The Chamber prides itself in supporting and advocating for its members. The onset of COVID-19 does not change this belief, it has merely emphasized it for Chamber staff. The Chamber is initiating a bi-weekly webinar series to assist members with the fast-paced changes they are facing in the workplace.
On Wednesday, August 19, 2020 Chair of the Board and Vice President for Bluebonnet Motors, Inc., Wes Studdard along with CEO of Rougeux and Associates, Natalie Rougeux talked about how to handle COVID-19 in the workplace.
This webinar provides members with valuable tools and information from fellow employers on how to handle the different aspects of employees and customers when it comes to the virus. "How to Handle COVID-19 in the Workplace" is the first of several webinars the Chamber is providing to its members.
For more information contact Phyllis@InNewBraunfels.com.