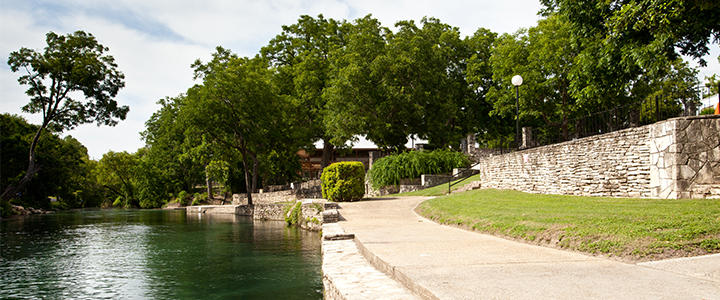 Representatives from local tourism entities provide a summer tourism preview at today's Board of Directors meeting. Stuart Blythin with Schlitterbahn, City River Manager Amy Niles, Brandy Schaeffer with Natural Bridge Wildlife Ranch, Shane Wolf with Rockin 'R' River Rides, Travis Wuest with Natural Bridge Caverns, and Chamber Vice President of the Convention & Visitors Bureau Judy Young participated in the panel and provided an outlook for the coming months.
Young started with an update from Gruene including that it is the 40th Anniversary of the current ownership and they will have a big summer lineup planned. She also reported that the City has contracted with a company to monitor the short term rental market and help ensure the rentals are complying with the hotel occupancy tax and have the correct permits.
Blythin said that Schlitterbahn is celebrating its 40th Anniversary and will have an alumni celebration on June 21 with discounted tickets for alumni, giveaways, cake, and demos. He noted that when the park launched in 1979 they had 12 employees and now they have 250 full time, year round employees, and hire 2,000 seasonal employees. Schlitterbahn has also won the Golden Ticket Award for the Best Waterpark in the World for 22 years in a row and will continue their Rock The Bahn live music concerts on Saturdays from July 6 to August 10.
Wuest reported on the recent discovery at Natural Bridge Caverns. A team of explorers, including himself, were able to gain access to an area that had not previously been accessed and it extended the system by more than 600 feet. He also gave an anecdote that when the cave was discovered in 1960, then-Chamber President Tom Purdum was able to tour the cave before it was open to the public. The facility has five different cave tours, a maze, a mining activity, zip lining and will celebrate National Caves and Karst Day on June 6. They also are doing construction on the caves to be able to extend the tours and that project will be completed in two years.
Schaeffer noted that Natural Bridge Wildlife Ranch is celebrating its 35th anniversary and recently received their Conservation Centers for Species Survival and Zoological Association of America accreditations. They have added a new bridge so that certain parts won't have to be closed when the dry creek bed fills up and added a 28 passenger, open-air ranger vehicle guided tours. She also noted that they are the longest running safari park in Texas and have been ranked in the Top 10 Safari Parks in the country by US Today.
Niles shared that there were no major changes to city operations this year but that the non-disposable container ordinance has been extended from the Mill Dam to the I35 access road overpass under Faust Bridge and that the maximum cooler size allowed increased to 30 quarts. They've added two new paid parking lots but city residents may get a free resident parking pass from the Parks & Recreation Department and NBPD is expanding their operations to have a presence during the week in addition to the weekends.
Wolf closed the meeting out with a river update noting that the San Antonio Bridge work is not slated until September so it will not impact this summer season. He also reported that the Guadalupe has not seen flows like this in 10 years and it will allow for full use of the river instead of just sections of it. Because the Canyon Lake level was high enough, the river will have good flows all summer long allowing access to parts of the river that haven't been used in 10 years. Rockin 'R' is celebrating their 40th Anniversary as well and will host a party in September. They are also doing a "rent a tub, win a Harley" promotion and will announce the winner at that party.