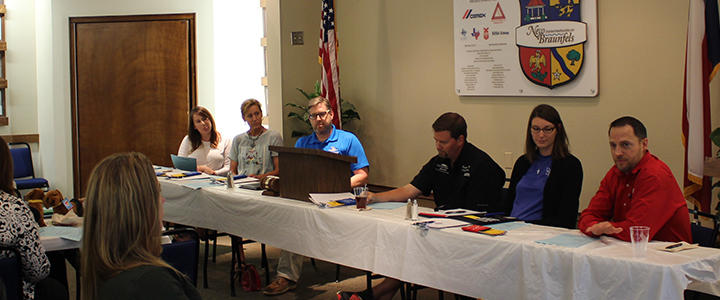 Today's Board of Directors meeting featured a panel of tourism industry businesses providing updates on their operations and forecasts for the upcoming summer season. The meeting also included a review of the new website and a staff tenure award for Val Preusser, Highway Visitor Center Coordinator, for 10 years on staff with the Chamber.
The Chamber recently launched a new website and is still in the progress of transferring information and fleshing out certain components of the website. Each of the Chamber's departments, Membership, Convention & Visitors Bureau, and Economic Development, each have a dedicated website with customized messaging and features targeting their specific audience with relevant information.
Nathan Manlove, of The AMMO Group, provided a review of the Convention & Visitors website highlighting the new layout, advertising opportunities, user generated content, the business directory, integration with Trip Advisor and Yelp, and the ability to build a trip directly on the site. Laurie Wehring, Chamber Vice President – Leadership and Small Business Programs, gave an overview of the Chamber's website focusing on different sections of the site and the mobile usability.
The meeting concluded with a summer tourism panel including Stuart Blythin of Schlitterbahn, City River Operations Manager Amy Niles, Kristen King of Gruene Historic District, Tiffany Soechting of Natural Bridge Wildlife Ranch, Shane Wolf of Rockin 'R' River Rides, and Travis Wuest of Natural Bridge Caverns. Each panelist had positive expectations for the summer and anticipated good crowds and revenue. Blythin reported that the Resort at Schlitterbahn, which was actually established prior to the waterpark, is being recognized as a Texas Treasure for more than 50 years of employment, they had a record breaking spring break, several of their statistics have already increased signaling a strong summer, Schlitterbhan is celebrating their 40 year anniversary in 2019, and they employ 175 full time positions year round and 2,000 seasonal positions.
Wuest reported that while Natural Bridge Caverns has not seen much growth in attendance numbers since last year, they have had an increase in revenue, they have moved to a new dynamic pricing structure based on demand so buying tickets in advance usually saves guests money, and they have started construction on a new project opening up more of the cave to expand the cavern tours. Niles reported that the City has sold less Resident River Passes this year but this may be because residents are realizing they only need them during the holidays and weekends, paid parking has been introduced at the Elizabeth Street lot and increased at Prince Solms, the river markers program is installing 70 signs along the Comal, a Public Input Meeting will be held on July 10 for the River Improvements Projects to look at needed infrastructure improvements, the non-disposable container ordnance is in affect and they city has received a lot of help from local businesses, and an Adopt-A-Spot program has been launched.
Wolf reported that the San Antonio Street Bridge Project is not set to be bid on until May of 2019 and will hopefully be completed by spring of 2020, Canyon Lake is still four feet low so the Guadalupe is running at a minimum, the Dallas and Houston markets are beginning to return, the Night Moves NB program is going strong providing shuttle service from area hotels to local night life venues, and Rockin 'R' will also be celebrating their 40th anniversary in 2019. Natural Bridge Wildlife Ranch is forecasting a great summer based on their record breaking spring break and they have several baby animals ready to greet visitors. King wrapped up the panel with an update on Gruene Historic District saying that their goal is to be front of mind year round so that locals and tourists will visit Gruene in the off season as well as summer, they have several recurring events such as the Friday Afternoon Club, Gospel Brunch, Two Tons Tuesdays, swing dancing lessons, Come and Taste it, and they have live music all day every day throughout the summer season.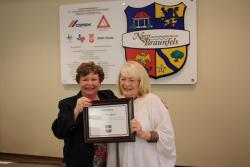 Chamber staff member Val Preusser, Highway Visitor Center Coordinator, received recognition for 10 years on staff with the Chamber.